Hi everyone,
Today at nvdrones.com we've introduced new functionality to instantly create beautiful, comprehensive, flight summaries with just 1 click. All you need to do is upload a flight log to nvdrones.com then press the "Report" button to create a PDF you can share online or download. This is perfect for sharing with fellow pilots, with clients, or even for compliance purposes. The PDF includes:
Equipment Information
Telemetry Overlay
Airspace Classification (via AirMap)
Weather Data (via forecast.io)
Battery Status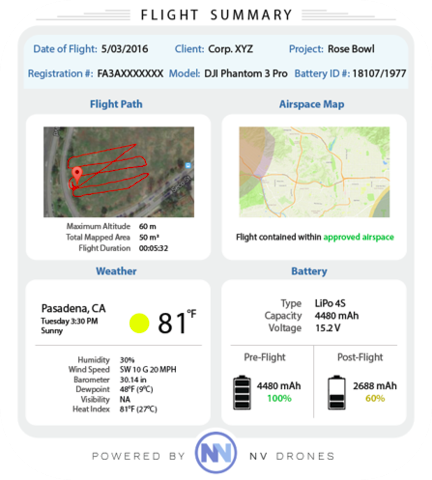 Thanks to our partnership with DroneDeploy that we announced today you can upload the following flight logs to nvdrones.com to start generating your reports for free.
DroneDeploy
Maps Made Easy
Autoflight Logic
Healthy Drones
Freefly Alta
Litchi
Yuneec
DJI GO and 3DR are coming very soon!
You can register an account and generate these reports for free at nvdrones.com.
Our
support page
gives me details about how to upload these logs as well as what else our product does.
Happy flying!