I purchased an addon light for my P3S and it worked for maybe five slights but now it's giving me problems. When I turn my drone on and turn the light on with the switch on the converter the light works fine and will continue to work indefinitely on the ground. When I turn the rotors on the light will still work indefinitely at idle. Once I give it full throttle and start climbing the light will go out around 4 seconds.
I tested the volts from the battery going into the converter and its around 16-17 volts, coming out of the converter going to the light is 12 volts, I held it in my hand and gave it full throttle to make the lights go out and tested everything again. Same voltage from battery but the converter output has dropped to 7 volts. Turning the switch on the converter off then on again makes the light come back on but full throttle will make it go out again. I also ran it without the light hooked up so there was no load on the converter then ran at full throttle for ten seconds and tested output and sure enough the output still dropped to 7 volts.
I thought it was the converter so I ordered a new kit. I replaced everything, converter, light and battery connector. But the problem still persist. Anyone have any ideas?
Here is the link to the light I ordered
DigiPower - Re-Fuel LED Headlight for Select DJI Phantom 3 Drones - White
Here's a pic from the site.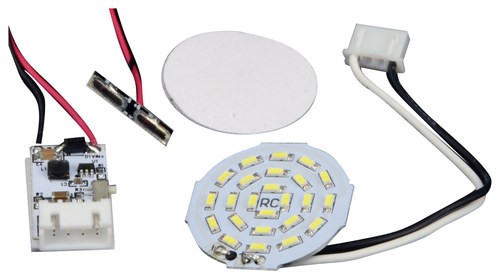 Last edited: