Hi All,
I've come across a problem with a standard when I removed the the camera (only the camera and arms, not the base that houses the wifi module etc.).
Before removing the camera I as able to fly the drone and had connection to the DJI App throughout flight.
I as also able to fly the drone without the gimbal base (no DJIGo App though) without an issue.
However, after taking the camera off the gimbal base, the drone boots up fine and the controller light goes from red to green (indicating that binding to the drone is successful). The DJIGO App connects to my phone fine BUT after about 5-10 seconds the App loses signal AND the green light on the controller goes back to red. 5-10 seconds later, it binds again and the App connects briefly before disconnecting again. This goes on and on etc.
I have taken the cover plate off the gimbal base to reveal the main gimbal PCB. There are two small LEDs. I notice that while the drone is connected the first LED slowly blinks bright green (see green circle below), and just before it disconnects it flashes dim green once, and then the second red (see red circle below) LED flashes bright red (slowly). This connect/disconnect cycly repeats every 5-10 seconds while the drone is on.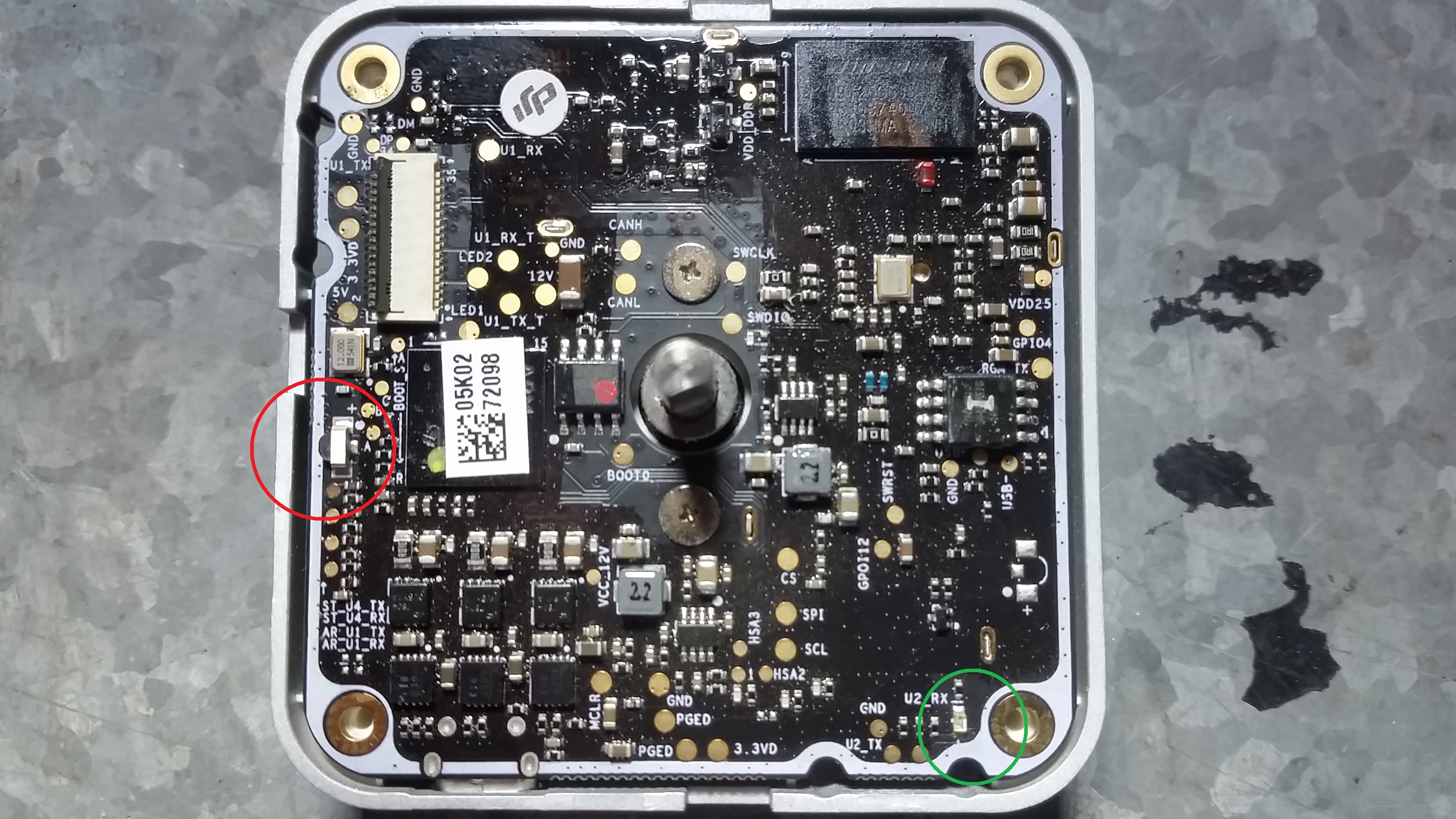 The last comment I have is now when I take the board off the remote doesn't bind at all (but it was working before I took the camera off).
I know taking the camera off is not the issue itself (I have done it once before and it was fine), The only thing I think it could have something to do with one of the 3 wires attaching the gimbal to the drone? These were bumped while I took the camera off (although they didn't come off) however I have taken these of and reconnected and have also tried rebinding and various other easy fixes. I'm hoping someone has either discovered this issue before or has enough knowledge about these drones to know what the LED blinks mean in this scenario.
Any help is appreciated