Joined

Jun 30, 2016
Messages

1,380
Reaction score

590
Location
Here is a success story I wanted to share.
I had a Phantom 3 Pro gimbal which didn't allowed me to see the FPV feed. Photos and movies were recorded on sd-card, there was just no live video - only grey background - in Dji Go.
By connecting another gimbal, I narrowed down the problem to gimbal itself - a different gimbal (which had the same firmware installed) worked fine.
If you need to diagnose the cause of your issue, do not just assume it's the same as described here; to through the diagnosis graph to find your cause:
Fix no video feed / black screen / no image transmission / no FPV on Ph3 Pro
Then I disassembled the gimbal. I looked at available information about the board:
WM320 Gimbal top board · mefistotelis/phantom-firmware-tools Wiki · GitHub
On the schematic, video feed is encoded by media processor model DM365:
dji-hardware-schematics/phantom_3_pro_overview.pdf at master · mefistotelis/dji-hardware-schematics · GitHub
To check whether the media processor is working correctly, I tapped to UART interface of the DM365 chip with TTL-to-USB converter (aka FTDI). See here for details:
Firmware m0800 · mefistotelis/phantom-firmware-tools Wiki · GitHub
I opened PuTTY on the interface before connecting 5V power for the board, then connected the power. There was no output on the console while the board was booting. But the board was booting - I was able to see the diode blinking on it. Which means either my FTDI configuration was bad, or the chip just wasn't producing any output.
To check which is true (and also fix the issue if this turns out to be a chip boot issue), I shorted the boot pins to 3.3V and connected the board to PC again. This should cause the DM365 chip to boot internally, without use of NAND. This time I was able to see a series of "BOOTME BOOTME BOOTME" messages. This ment my FTDI configuration is fine, the DM365 chip really wasn't printing anything when trying to boot from NAND.
Here is the NAND chip with number "3" drawn on it: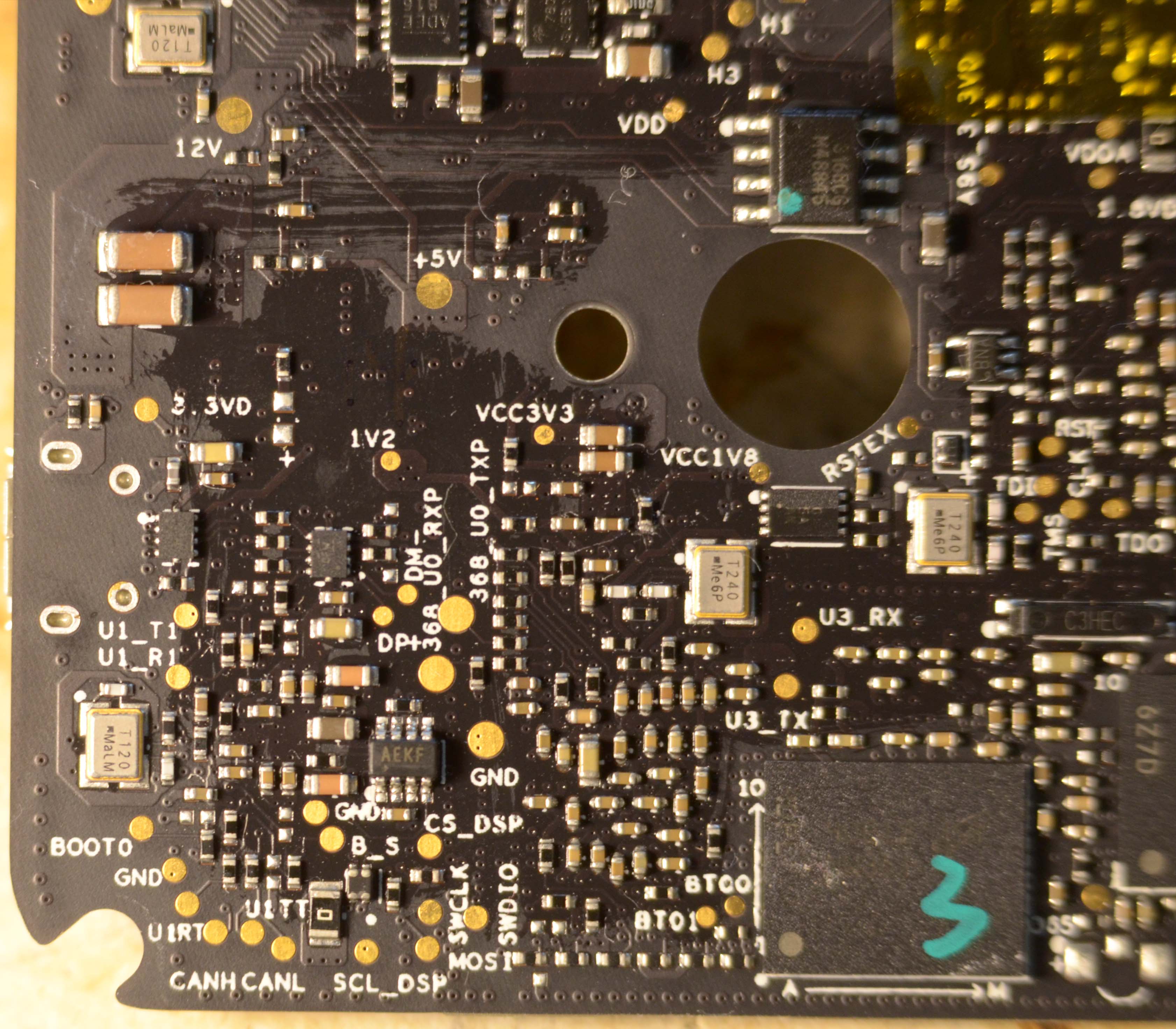 Phantom 3 Pro gimbal board with dm365 NAND chip "3" visible.
If DM365 chip isn't printing anything, then the bootloader on NAND is damaged. I tried flashing the bootloader using instructions from here:
Flashing firmware on DaVinci media processors · mefistotelis/phantom-firmware-tools Wiki · GitHub
But I wasn't able to flash the image. Flashing was ending with message about failure to open NAND:
Code:
Waiting for SFT on the DM36x...
        Target: Starting UART Boot...
        Target: BOOTUBL
BOOTUBL commmand received. Returning CMD and command...
CMD value sent.  Waiting for DONE...
        Target:    DONE
DONE received. Command was accepted.
Sending the UBL image
Waiting for SENDIMG sequence...
        Target: NAND_open() failed!Starting UART Boot...
        Target: BOOTUBL
Conclusion - The NAND chip is either not touching the board correctly and needs re-flowing the solder, or is damaged and needs replacing. I gathered a cheapest BGA soldering equipment I could find:
With the equipment received from China, I went to action. I used heat-resistant tape to shield the components around NAND. First I tried heating-up the NAND chip and re-flowing it, but nothing changed - still "NAND_open() failed". Then I heated it up again and gently pressed the chip, to make any smaller solder balls connect. Unfortunately, that connected too much - the chip became a short, and caused the whole FTDI to disconnect because of high current draw. I tried heating up the chip even more to make it wiggle and re-form the solder balls, but couldn't do this - the chip is so large that it won't dance under the hot air, and the ultra-cheap soldering station won't allow me to increase the air flow enoughly.
So I bought a few replacement NAND chips in China. Removed the old chip, cleaned the pads with wick, put a little soldering paste on it and soldered a new chip, placing it very carefully to the white outline of the chip visible on the board.
Then, when I connected it back to PC - I was able to write bootloader to the flash. It worked! I had to do several tries though, probably because of poor quality (or too long) cables. [EDIT: now I know it was not due to cables, but because my USB port couldn't deliver enough (over 700mA @5V) power] Here is my flashing configuration: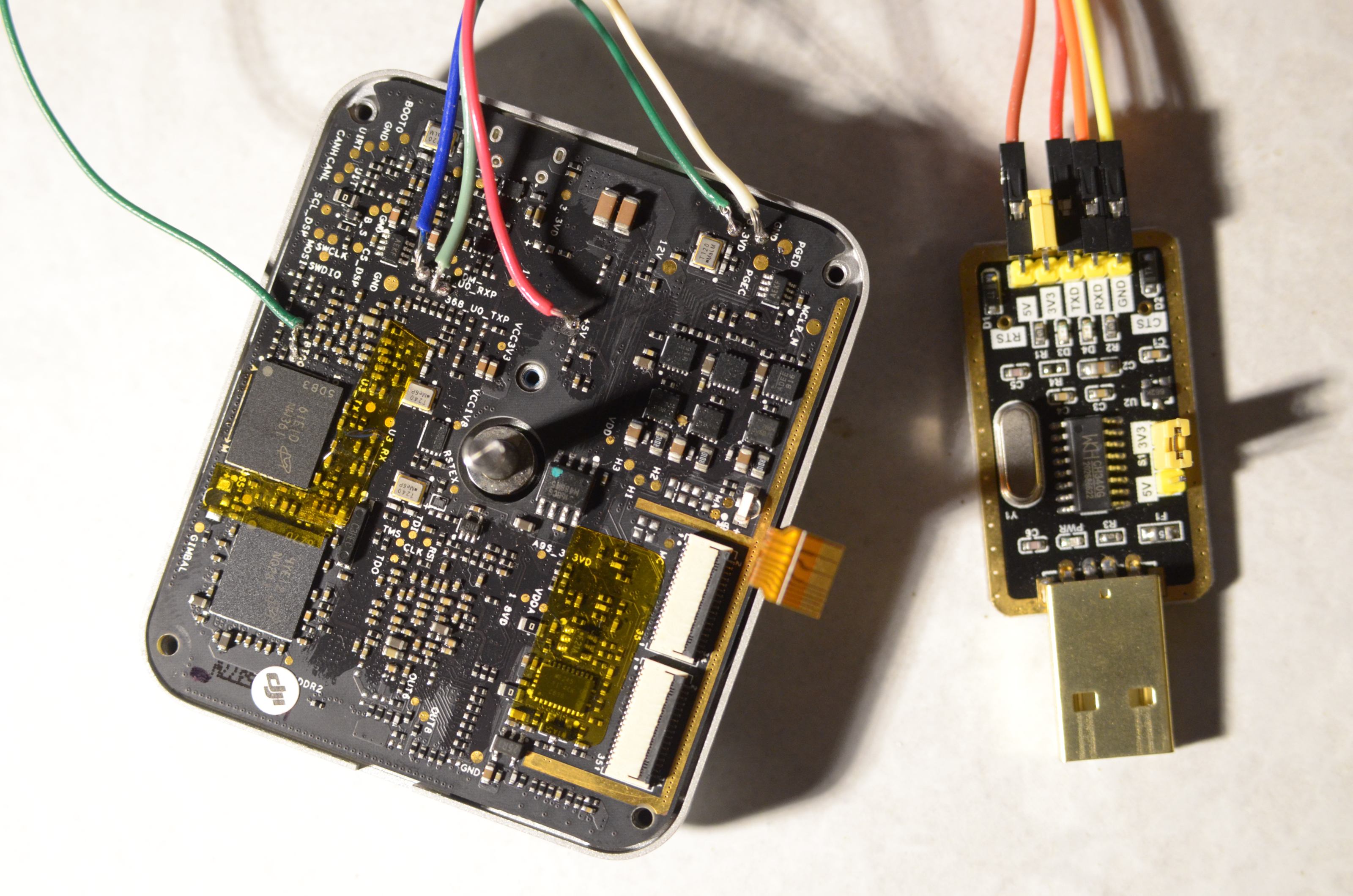 DM365 UART connection, including boot pads shorted to allow writing bootloader
After the bootloader was flashed, I disconnected the green cable which was causing it to boot internally and spew BOOTME:
Without this cable, the chip should get back to trying to boot from NAND. I connected it back to PC to check whether bootloader works. And it does!
Now, I need a full image of a working NAND to make the rest of it work, but it's already a success.
Anyway, if anyone happens to have such image, or has FTDI connected and can download it from the board - I'll be interested in that.
Last edited: