I see many people complaining about how their experience with DJI support was handled. In my experience, they have been more than reasonable and I believe most of these disgruntled complainers are looking for someone to blame due to their careless crashing of a drone and want compensation or more commonly they have some misunderstanding about the Dji after-sales process.
Overall, I believe most of my experiences with Dji customer service were good. The process is not complicated at all, all you need to do is prepare and communicate your issues with them clearly from the start. So, to avoid any future mishaps and issues when your drone has taken a hit, here is a guide on what to do when your precious drone needs a trip to the doctors!
In this post, I'll specify the detailed tips of how to get your drone handled efficiently and hassle free by DJI Support.
If you have contacted DJI customer service before, you probably know that Dji provides you with a free shipping label, in case you need to send back your broken drone or damaged parts. In a few days, you will get your repaired or replaced drone directly back to your mail address. The whole process can be pretty smooth if you do the following things:
1. A computer with Internet
2. A printer for the free label
3. Less than 15 minutes of your time
Then you can start the online registering process immediately. Simple, right?
How to reach out to DJI Tech Support?
And what are the tips that may need your attention? The following is a step-by-step guideline on how to do it.
Here is the list of what you need to prepare:
1. Proof of purchase
. Prepare a JPEG or PDF-copy of your proof of purchase on your PC, ready for uploading.
For DOA, it should be within 15 days of receiving your product.
For Return & Refund, it should be within 7 days of receiving your product.

You can see from above screenshot that Dji will ask you to provide a copy of your proof of purchase. So make sure you don't lost it and keep a copy of it.
2. Product SN
Dji repair website has a page that actually gives your detailed instruction on
how to check your product's Serial Number
.
Here you need to be aware of the numbers '0' (zero) not to be mixed up with the capital letter 'O'.
Make sure that you provide with the right SN numbers, otherwise if DJI Support team found that there's a problem with the SN number, they might refuse to treat your product under warranty or DOA.
3. Video footage or a screenshot to state your problem.
If your drone is crashed or some other problem, and you think it's not your fault. A video of the incident will do you a lot of good. It will vastly save up the time for data analysis.
4. File with flight-logs or synced fly-log-data in the App.
A quick tip to show you how to sync your flight logs in your app:
· Connect your mobile device with WIFI. Launch your DJI Go 4 App;
· Click the "aircraft" on the top left;
· Click the "cloud" on the top right, sync one month record and wait until it's 100% completed.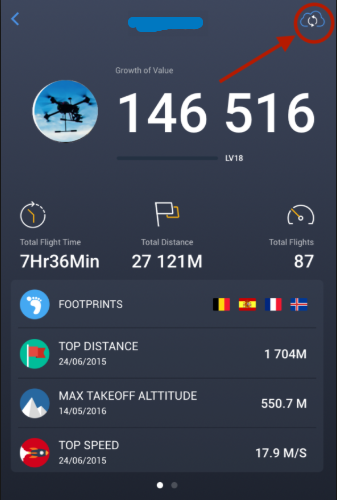 Click the "Cloud" on the top right​
5. A detailed description of what happened
, including the date of when you crashed your drone, the flight environment and how did you operate the Remote Controller. Just make sure you provide the information as detailed as possible, it will also help the engineer to analyze the situation.
After you got above things prepared, here is the list of what you should do next:
· Go to
the official website of DJI Repair Center
·Log into your DJI account
· Click "Submit A Repair Request"
· Choose from the list of your products, and follow the instructions and the further process
· Upload the documents that you prepared as requested.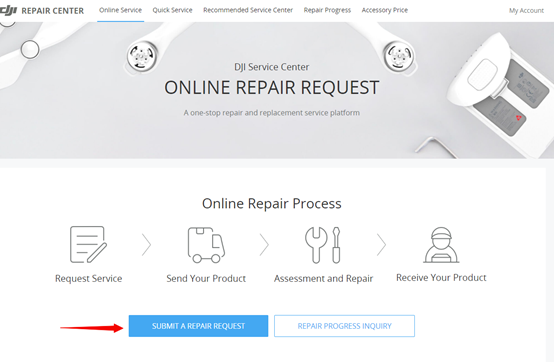 Click "Submit A Repair Request"​
After you finish all the online registration and fill up all the information. You will receive a mail confirmation automatically sent from their system. It contains your case number which starts with a CAS-.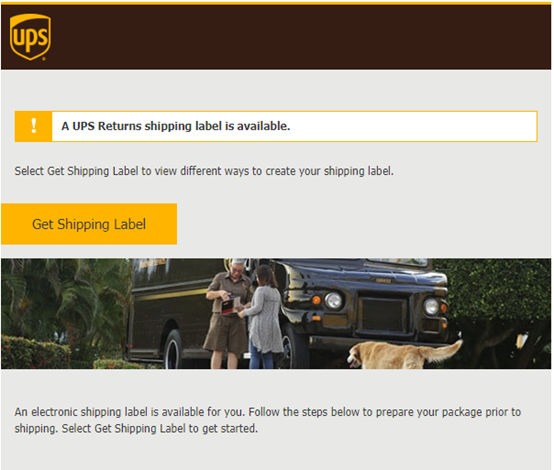 ​
Right after you complete the repair request, you'll receive a free shipping label authorized by Dji immediately. Then it'll come to the next step — preparing the shipping to DJI repair center.
· Use bubble-plastic to wrap your drone up.
· Write clearly your Case No. with the CAS- outside the package, otherwise DJI will probably reject it.
· Print the shipping label that DJI sent you and attach it to your package
· Contact UPS, and take note of your UPS Track No.
·
Check your repair statues
on DJI Customer service website.
· When the repaired or replaced product is ready, the DJI Support team will notify you by mail.
A friendly remind here, after your drone is repaired in an official Dji Service Center, Dji will send you an email to remind you that you can still buy Dji Care Refresh within 72 hours of receiving the email. That means you'll still have a chance to have your drone insured.
In case you'll need any help from DJI Support, you can reach out to them through Facebook messenger (
@DJI Support
) or contact their online team. If you prefer old school ways like emails, you can send an email to
[email protected]

.com
, or you can check the following
DJI Repair Phone Number
in different regions and call them directly:
CHINA
+86 4007000303
Mon - Sun 9:00AM - 12:30PM; 2:00PM - 9:00PM (GMT+8)
HONG KONG CHINA
+852 3060 6038
Mon - Sun 9:00AM - 12:30PM; 2:00PM - 9:00PM (GMT+8)
MACAU CHINA
+853 6262 1485
Mon - Sun 9:00AM - 12:30PM; 2:00PM - 9:00PM (GMT+8)
TAIWAN CHINA
+886 2 8723 0819
Mon - Sun 9:00AM - 12:30PM; 2:00PM - 9:00PM (GMT+8)
UNITED STATES & CANADA
+1 (818) 235 0789
Mon-Fri 7:00AM - 5:00PM (PST)
GERMANY
+49 (0) 9771-177 3000
Mon-Fri 9:00AM - 3:00PM (GMT+1)
NETHERLANDS
+31 20 654 5202
Mon-Fri 10:00AM - 7:00PM (GMT+1)
UNITED KINGDOM
+44 2076603037
Mon-Fri 9:00AM - 6:00PM (GMT+0)
AUSTRALIA
+61 1300 090 802
Mon-Fri 9:00AM - 5:00PM (GMT+10)
BRAZIL
+55 0800 880 9983
Mon - Fri 9:00AM - 6:00PM (GMT-3)
SOUTH KOREA
+82 080 822 1456
Mon-Fri 10:00AM-12:30PM; 1:30PM-7:00PM (GMT+9)
Last edited: