I use a popular flight plan app that lets you program missions with long/lat/alt. This particular mission is a simple one point mission at a designated latitude, longitude and altitude. The mission is saved and I use it on a recurring basis - always careful not to bump the settings. This month, it shows a fairly severe disparity in altitude vs the previous month, despite no changes to the programmed mission.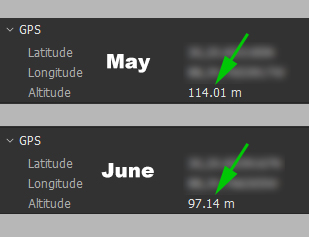 AC:
Phantom 4 Pro
Device 1:
iPad Pro (WiFi only)
Device 2:
iPhone 8S (with Hot Spot)
Of note: While I usually connect the iPad to the iPhone via Hot Spot, I cannot say with 100% certainty that it was connected for this mission. The app does not require a cellular connection.
Hoping I could get some suggestions as to why the disparity in altitude between the two missions when technically it's the exact same spot in the sky (X, Y, and Z). FYI - I verified that the long/lat values are identical. Thanks in advance...