I bought my P3P new in June 2015. Last update I did was V1.3.20 years ago. Since then no updates to anything. It has performed
well all these years - until today.
Now I get "NO SIGNAL" in red on my iPad
Air2
display.
All DJI Go aircraft data is there - distance, height, orientation, battery info, etc. and I can start and stop the motors.
The camera itself is working - meaning I can pan the camera, start and stop a video from the RC, and the video is saved on the SD card.
Move the SD card to my desktop PC and video plays fine - just no video on the iPad.
So it seems all the data transmission between the AC, the RC, and the iPad is working except for the camera video transmission to the iPad.
I've restarted the AC, the RC, the DJI Go app, and the iPad multiple times - no change.
The DJI Go app shows no errors except for the red "NO SIGNAL" in the display.
The AC locks in GPS mode and is ready to fly with all LEDs indicating normal.
Swapped a new USB cable from the RC to the iPad - no change.
The AC has over 300 flights, never been in an accident, the shell has no cracks and has never been opened. I'm even using the original props that have never been damaged or removed.
Note on the attached pic the red "NO SIGNAL" and that the HD Video signal strength indicator shows 5 bars.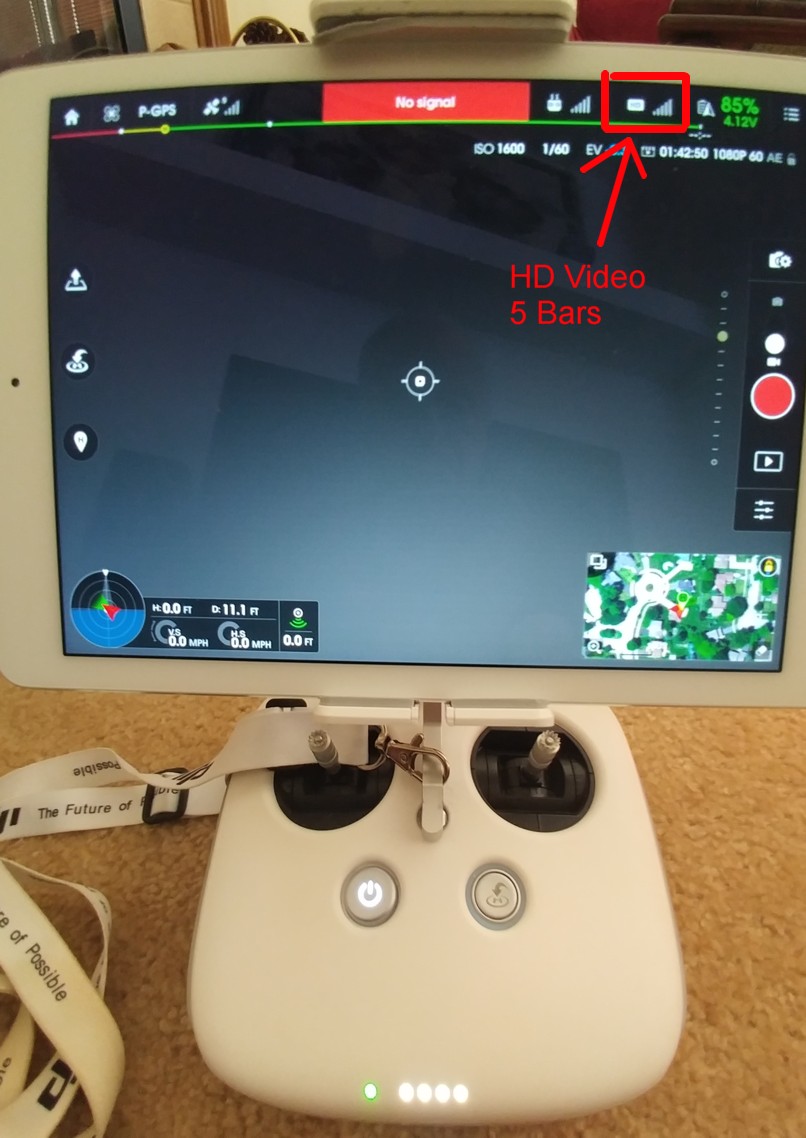 Just no video on the iPad.
As a guess, I assume the AC has a video transmitter and the RC has a video receiver and that either could be at fault?
If I had a spare RC I could re-link it and eliminate one or the other. Anybody in the greater Chicago (Naperville), IL USA area have a P3P RC to do a quick test?
Anyway, I'm not afraid to dig in and disassemble things - just not sure where to begin.
I'm also not afraid to let an expert do the repairs as well.
Thanks for any help.