Joined

Apr 6, 2014
Messages

1,187
Reaction score

165
Age

54
Location
Just received a stack of antennas from the good folks at itelite... They are asking me to test different polarity setups to see which arrangement gives the best overall range...
So I got out and did some long runs this morning with the three samples they sent...


All tests this morning were done with stock DJI transmitter and WiFi power... No hardware boosters... No booster apps running.
Here's some pics of my setup before going out to fly
And here's the rundown of how things went out there this morning....



So I ended up with these three panels to test... Each panel has all three antennas we need to satisfy the Vision/Vision Plus setup... One 5.8gHz 14dBi patch in vertical polarity to match the dipoles in the Phantom landing gear... And two 2.4gHz 9dBi patches to communicate with the onboard WiFi patches... These two WiFi antennas are the ones we suspected would benefit from 45 degree diagonal polarity... and the results show that theory was correct.

First test this morning... panel used was the V-Pol... all antennas polarized vertical... results were pretty impressive ... 1.5miles with no boosters or booster apps running... results shown here on Flytrex... http://www.flytrex.com/mission/quadcopter-dbs-vision-bigchuck-rossetti-Jkh4DWIv/

Next test was the V&H-Pol ... control antenna vertical ... WiFi antennas Horizontal ... not as impressive ... ended up about a thousand feet less ... didn't upload.

Final test this morning was the V&X-Pol ... control antenna vertical ... WiFi antennas 45 degree offset diagonal... THIS was the winner... 1.7miles ... over 9000ft range with no boosters and no booster apps running... results shown here on Flytrex... http://www.flytrex.com/mission/quadcopter-dbs-vision-bigchuck-rossetti-Lipg9JBC/
So i guess that sums up the testing part of this whole deal...


I will turn in my results tomorrow via email to the itelite guys... and see about what kind of time frame they are thinking about for releasing these things and so on.
Which brings me to some questions they have been asking me...
I figure , since they will be making antennas for us range junkies on the forums , why not get some input instead of me trying to answer questions myself right?
#1
Take a good look at the photos above... the size of the panel... roughly 9 x 9 inch ... that panel size is something they already produce and makes it easy for them to run the antennas right away and keep the cost down for us... but it is possible to be made smaller... (exact dimensions to be determined but roughly an inch narrower and half the height... or 6 x 6 square) ... but this will take a bit more time and drive the cost up a bit for retooling a new panel size and cover configuration... what you guys think?
#2



Mounting solutions... something they also want to narrow down to a simple, thumbscrew clamp style rig that will clamp to the chrome bar next to the range extender with a simple twist of a nut... no tools involved ... no messy, half baked, velcro, sticky gunk crap that just makes things difficult and unprofessional looking... any ideas on that one guys? any stuff you've seen out there that fits the bill?
#3



Keep it white with the cover as above? Or naked with the antennas showing as you've seen in some of my other stuff?

example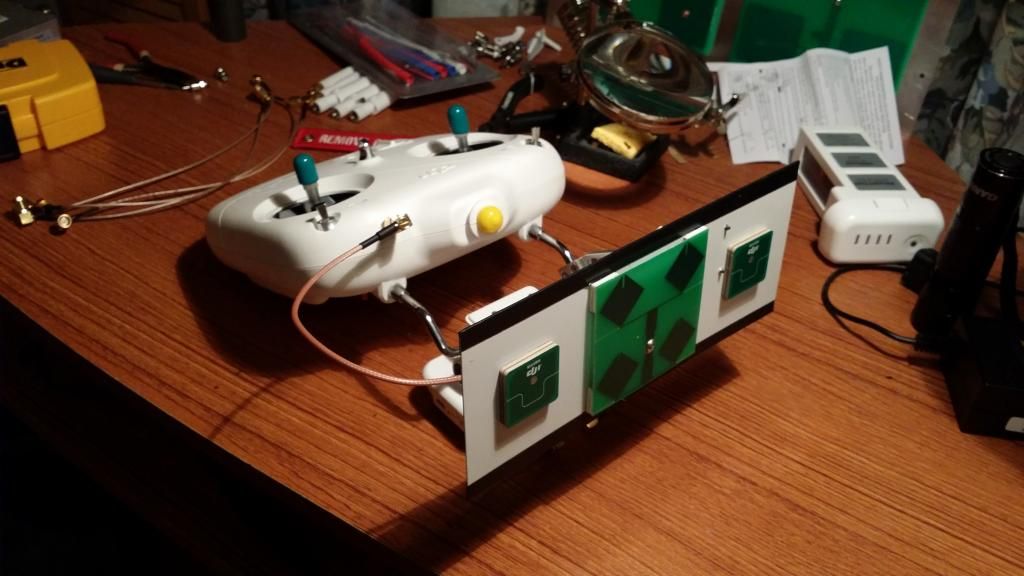 #4



silly question... you wamme to test this sucker with a WiFi booster app running and some amps on it? (what the hell... i'm probly gonna do that anyway sooner or later)
So to wrap things up here...



Just some other points that they have let me know about regarding these antennas...
They are not trying to make any world record setting monsters... Those things come out huge and they are already available anyway...
The idea here is to offer some really solid range and signal quality in a package solution for under a hundred bucks with two different models in mind... The one i tested today will be the shorter range/cheaper model with the smallest profile if they go ahead and retool for a smaller panel/case size... and there will be another , larger model with better patches that should reach out to three miles or so with no problems if you don't mind using a WiFi booster app (still under a hundred bucks)
Well there it is ... as much as i know so far i guess... i'll try to keep updated here as i learn anything new or different... i don't fly as much anymore or communicate with itelite as much anymore but i thought this was a real cool idea for some solid range for a killer price if they come through the way they have been talking.

Lemme know what you guys think and i'll pass on any general ideas or requests to try and make this a community approved build that satisfies some of the points made here on the forum over the past months. (I'll try anyway... i dunno if they really listen to me anyway)
Merry Christmas Guys!! Here's to Fun Flights and Sleepless Nights , Modding into the New Year!!!
Admin:
"Note: This thread was started by "DBS" who is the vendor of this product."