Available at
iOS APP Store
Vision Pilot 3 will enable you to safely and reliably shoot high quality aerial video.
Supported Platforms:
• Compatible platform: DJI Phantom 4, Phantom 3 (Pro/Adv), Inspire 1 (X3/X5/X5R), Matrice 100
• Compatible iOS devices: iPad Air/
Air 2
/Pro, iPad mini 2/3/4, iPhone 5s/6/6+/6s/6s+/SE
• Required DJI firmware: 1.4.10 or above
Features:
• Active Track: the aircraft can track a moving object you select on the video preview, you can also Orbit around the tracked object / have the aircraft automatically follow the subject.
• Supports Waypoint / Panorama missions / Focus Mission
• Panorama mission: easily shoot 360° horizontal and spherical panoramas
• Waypoint mission: pre-plan waypoint missions without being connected to the aircraft
• Focus mission: keep focus on a subject while flying aircraft with various orientation
• Exported log file can be uploaded to HealthyDrones for flight data analysis
• Pre-plan waypoint missions with web browser at
https://vision-pilot.com/planner
• Mission sync to all your iOS devices
• Supports Goggles Mode (iPhone only)
• Navigation Map and FPV Display
• Real time battery level indicator
• Warning monitor system
• Screen Recorder
-- Waypoint mission
Features:
• Setup classic Waypoint missions (eg. Cable Cams, Selfies and etc...)
• Pre-plan Waypoint missions without being connected to the aircraft
• Supports multiple Points of Interest
• Adjustable Bezier curves path for smoother videos
• Automatic gimbal control
• Play/stop/pause/fast forward/backward the mission on the fly including gimbal movements
• Load and save missions
-- Goggles Mode (iPhone only)
Enter the cockpit and see with the eyes of your drone - Vision Pilot 3 turns your VR headset into high quality FPV goggles.
Features:
• First Person View (FPV) optimized for VR headsets.
• On-Screen-Display (OSD) shows live telemetry data such as battery level, height or camera orientation.
• FPV mode allows to switch the video preview between drone camera and iPhone camera.
• Toggle Full Map and FPV mode.
• Battery and IMU monitor system.
• Remote settings control without touching the screen.
• Screen adjustment for different goggles, iPhone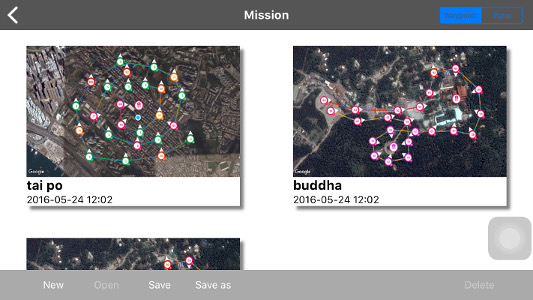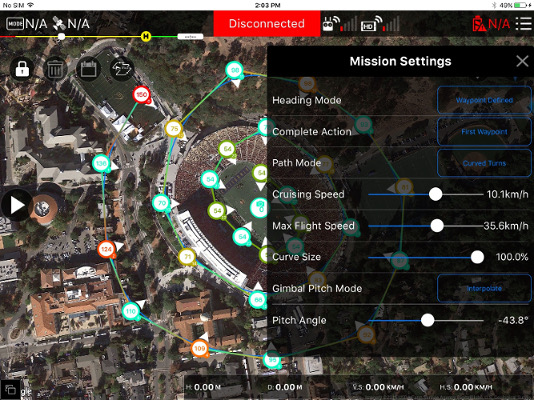 Last edited: