Phantom 1.1.1
DJI WIN Driver Installer - supports Windows XP or above (32bit/64bit). - 2013-01-18
Naza-M Assistant Software v2.20 - (32bit/64bit). - 2013-10-25
Everything was looking good....GPS lock, Green lights.....
But then it refused to connect to the PC for IMU calibration.
Tried everything I could think of.
Strange thing is this.........
The PC definitely senses it is connected because it goes to the dim, solid green light on the cyclops light upfront AND.... in the Control panel under Device Manager, the entry drops out and reappears as I unplug and plug the Phantom back into the PC USB port. So there's definitely a USB connection.
But, the Assistant never shows any data. Just Zeroes.
Oddly, instead of showing up under USB Serial Bus Controllers, instead it shows up under PORTS as a USB Virtual port (wtf?) In the photo I have disabled the port. (See image below)
So I'm faced with the 6 - 8 week back to DJI dance and was wondering before I ship it off if anyone might throw some info my way to help with this issue. After a LOT of reading online, I'm guessing I have a bad NAZA v2 or the connector is not making good contact. I definitely will try a new USB cable before returning it but the fact that the PC and the Phantom are both responding to being plugged into USB (even though the assistant will not connect and the device manager shows it as a virtual port rather than a USB controller), seems to indicate the USB cable is ok.
DJI was nice about it and is providing a return shipping label. It has to go through diagnostics.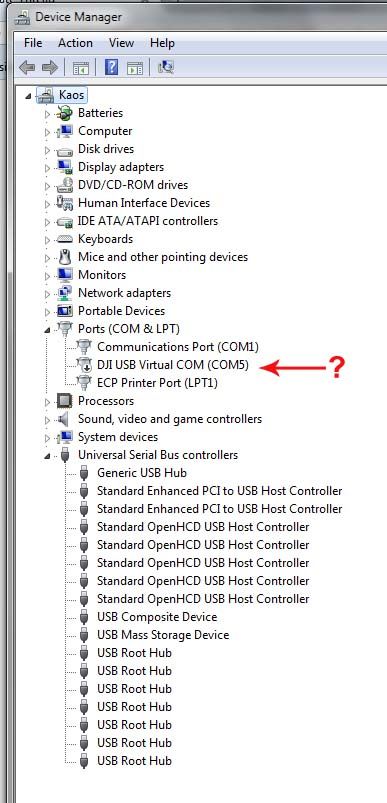 If anyone has any suggestions I'm all ears....