Edit: For Magic Power v5.x please look at post #3
Sorry I created new thread to answer many questions about application windows DJIUpdate.exe, this app used to raise Tx-Power 2.4 GHz up to 27 dBm.
With new mod 2.4Ghz then video/live streaming so the better, minimize lag and unexpected effects became more far-reaching.
The application works with inject script (watchlog.sh) into the device and then run in djiled.sh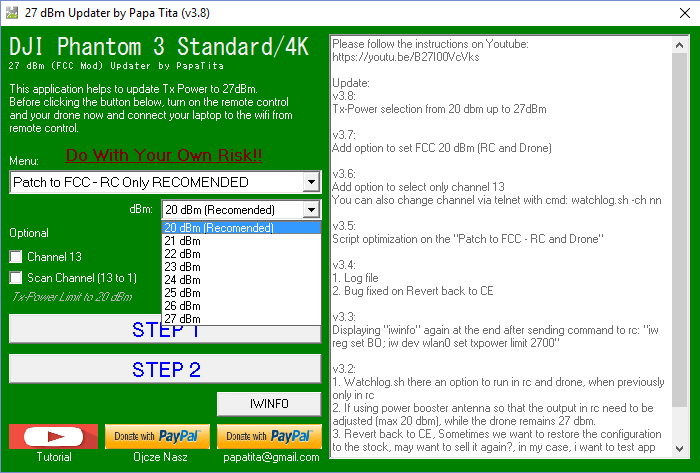 Additional features (DJIUpdate v3.6):
Unlock channel 13
Automatic Channel Scan (13-1)
Change Channel Manually (1-13)
Limit 20dBm (for user signal booster / amp).
Revert Back to CE (restore to default / Stock)
FCC Mode (20 dBm)
Tx-Power selection from 20 dBm up to 27 dBm
Working with firmware:

P3S:
1.4.6
1.6.8 (please downgrade to 1.5.7 or upgrade to 1.7.90)
1.7.8x
1.7.90
1.8.10
P3-4K:
How to Update:
Change Channel Manually:
Download Application
**
Specifically for the Phantom 3 Standard / 4K
**
Technical discussions about how the mod please ask to existing topics:
Phantom 3 Standard range mod , let's do it together...
Regards,
PapaTita
Last edited: