Joined

Mar 21, 2022
Messages

4
Reaction score

0
Age

21
I have owned my phantom for almost 6th months and have used it a lot. But yesterday was the first time I have had issues with it. In college we have been learning how to map with Pix4D and I have been practicing with my drone. It is a
Phantom 4 Pro V2.0
. I did buy it used from Ebay back in August of last year, so I have nothing with DJI.
Halfway through a mapping mission, the motors just stopped running and the quad began to fall. Instinctually I was putting full throttle up and oddly enough the motors were spinning again and the drone started to wobble into a recover. It was falling too fast and collided with the roof then bounced off and hit the concrete. Gimbal and camera are destroyed, some motors are scuffed, all the props are toast, the main shell is cracked, an arm broke, and the landing gear is toast. The battery ejected when it hit the roof but was not terribly damaged.
Now I just need to find out what the cause of this mishap was. I followed my preflight checklist, made sure all the settings were set to as desired in the GO4 app, all firmware was up to date. Followed the instructions for Pix4Dcapture as per usual. Closed the GO4 app, opened Pix4Dcapture, opened the preloaded 2d mission, it loaded everything to the drone and did its "checklist", hit start and it did its thing. It was on its 15th picture 2nd row when it just dropped from 150ft.
I have the .DAT files and some pictures for anyone to assess. It would be helpful as I am not well versed in properly assessing this info is CSV or other forms. Thank you.
For some reason FLY177.DAT is too large to upload and its still to large when I compress it. It has a lot of the flight information in it.
*updated* here is a screenshot from FLY177.DAT. All of the motors stopped spinning but I only have one on there so it is easier to look at. I do not know why the cell voltage shot up like that a few milliseconds before the motors cut out. Power was regained right after the motors stopped and a new .DAT file (FLY178.DAT) was created but the duration was only around a second until the drone hit the roof and the battery was ejected. There is no information shown in the 178 file.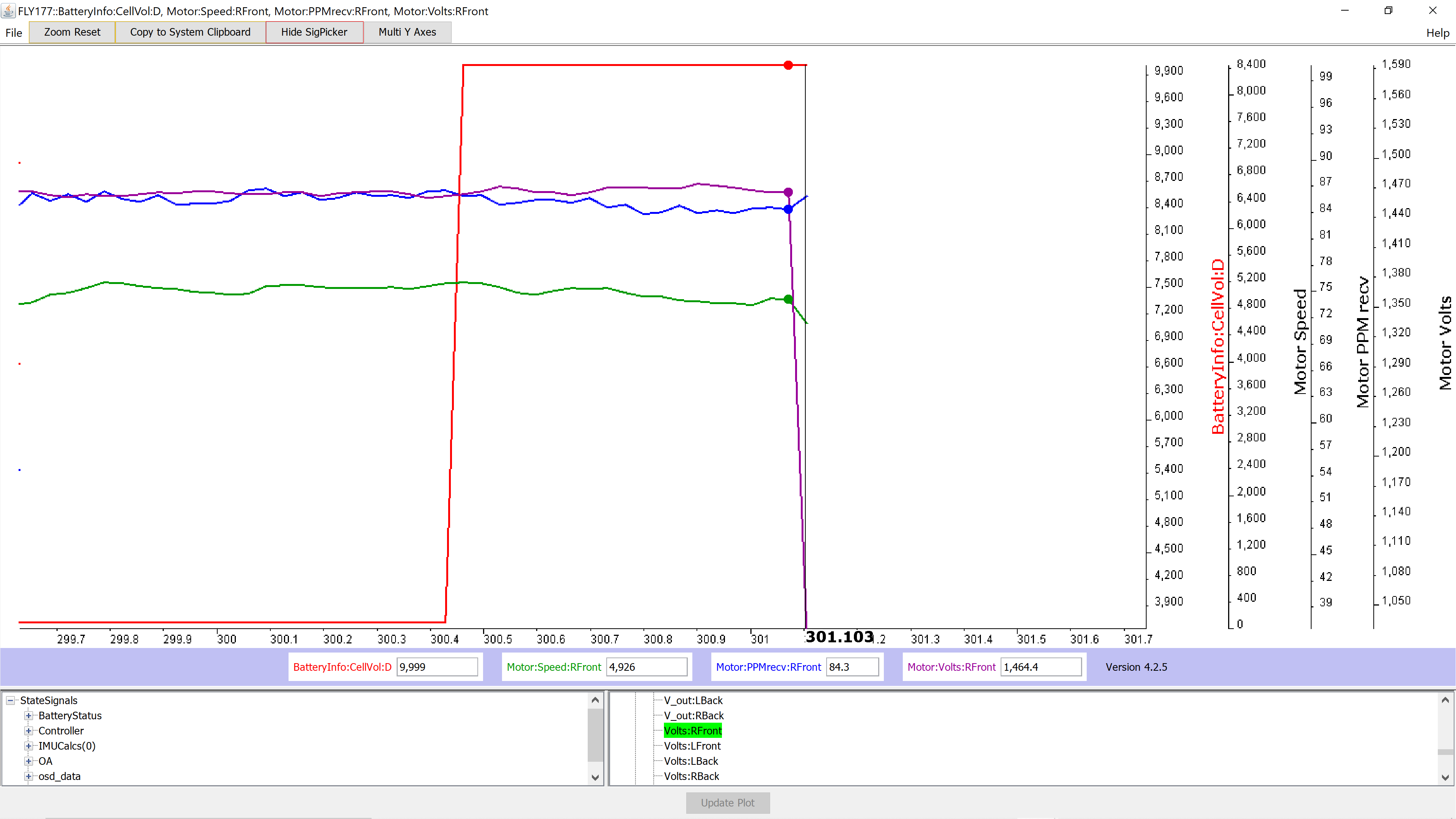 Last edited: