Joined

Apr 4, 2017
Messages

578
Reaction score

244
Location
My very first drone was a Syma X8G way back in the summer of 2016. Shortly after I got it, I bought a cheap 2-axis gimbal and mounted my action cam to it. My avatar has a picture of it flying. I powered the gimbal by drawing power from the main battery connector so that I wouldn't have to modify each battery. It worked surprisingly well - the camera stayed level and the recorded video was smooth. I had to be careful especially when descending as the wait of the gimbal and the camera would make the rig come down rather fast. I got used to it and was able to descend and land most times. Had a few hard landings though. After a hard landing/crash the gimbal got messed up and I had trouble with the roll and could never get it to stabilize. I got tired of tinkering and did not want to put any more money into it so I purchased my first DJI drone - a P3S.
That brings me to now. Just for fun, I want to see if I can get my 2-axis gimbal working again and flying on my X8G. The X8G still flies perfectly. I know I can use my P3S or Spark and get way better results but I want to see if I can get this working again.
Here is a link to a Utube video showing the drone, two axis gimbal, and action cam AND the problem I am having with the roll axis.
Here is a screen shot of my current configuration in SimpleBGC.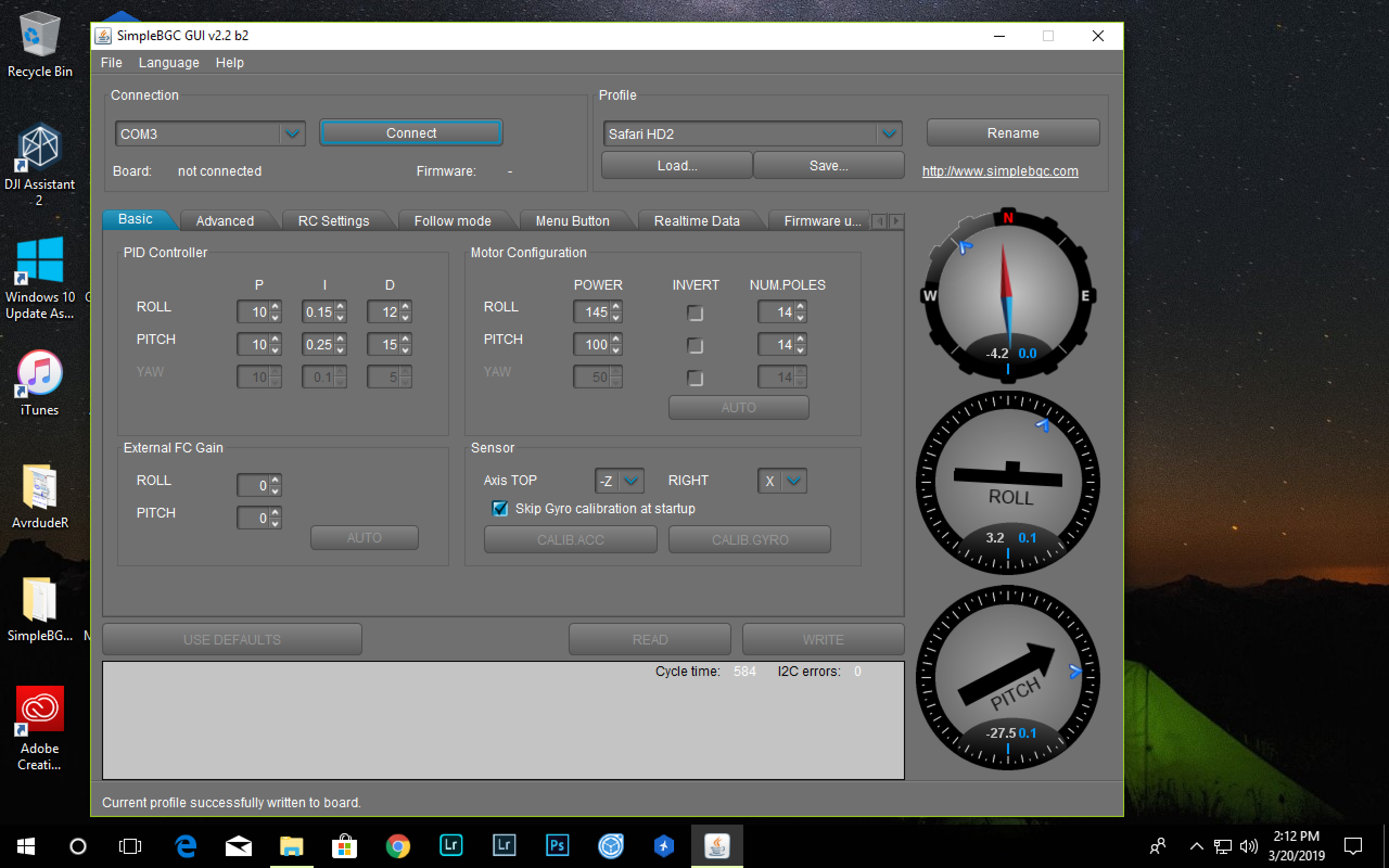 I have tried numerous configurations (from increasing/decreasing motor power configuration, and playing with various PID values). I am not sure what the individual PID values do but I tinkered around with them anyway. The default configuration is not working.
Anyone have any ideas on what to do or try to get it working?
Note, I do not want to purchase a new 2-Axis gimbal if I cannot get this working as its not worth it.
Chris