Joined

Oct 14, 2016
Messages

4,239
Reaction score

1,953
Age

65
Location
For those in the North - winter is tapping on the door and many people start to think about shelving their Phantom / Mavic etc. but why ?

Yes its cold ... yes the old tootsies and fingers can feel a bit crisp at times - but some of the best flights are in winter with stunning 'picture post card' shots waiting for you.

OK - this is not so much a 'video' thread - but more a suggestion on ways to make winter flights more possible. I am a Brit that moved to Baltics / Russia in the 90's, and I don't have to tell you - it can get pretty cold here. My house is in Ventspils on the west coast of Latvia and during winter we have dropped to below -25C at times, but average through winter is about -10C.... so these are my ways to survive in such temps :

First is YOU .... how to survive the cold ? FEET need to be in good insulated footwear. Nothing worse than cold, wet feet ! The 'locals' have an old fashioned solution - Horsehair boots ! Seriously ... boots made out of tightly compressed / woven horsehair. But lets be more modern and suggest good hiking boots with nice thick Rubber soles. I have a pair that have a fur lining inside as well. I can be out there all dayu and feet are warm as 'toast'.
Second are your ears ... the hat with flaps is ideal ... the Russian Schaptka is the bees knees but the real ones are expensive. A woollie hat is needed that at least pulls down over the ears but you can still hear.
Third of course are the hands and fingers. Some people like the shooting gloves with half fingers ... fine. But I think better is to think in terms of main warmth of hands is your pockets and secondary for flying are thin touch screen gloves. The idea being that hands are warm from pocket / car and you only need maximum 30mins with gloves.

I haven't mentioned coats etc. - I think that goes without saying !!

Ok - so we've dealt with YOU and you are warm as can be ... the real deal is to make sure your model is sorted for such weather. There are four main items to consider.

1. IMU warm up initialisation tme
2. Battery temperature
3. Take - off and landing
4. Touch screen vs controller buttons

>1. The IMU has a reference temperature set when you calibrate it. So if you calibrate that IMU in +20C weather - then the IMU will want to warm up before it alloows you to fly. I'm sure many of you have had "Warming up" in top line of your screen ... Well using that fact - gives you the solution. calibrate the IMU when out in the cold ! I did mine at -5C and then when I was flying in colder - I finally calibrated at -10C. Now I have literally instant initialisation of IMU in winter. No wasted time ..

>2. Battery temperature. There are many ways to get round this. Inside pocket of jacket ... under the arm ... in {icnic Bag with pocket wramer ... or you can do as I have - Hobby King has a dedicated LiPo warmer bag that runs of any 12V source

Turnigy Programmable Lipo Battery Warmer Bag (12v DC)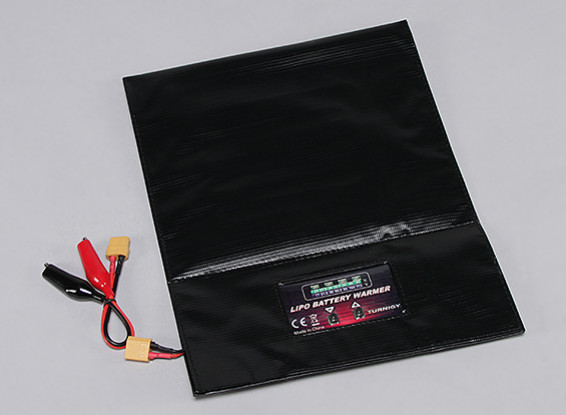 User settable temperature etc. You can have that out of the car with you running of NiMh / old LiPo ... anything with 12V.

>3. Take off and landing ... there's no need to start hand catching or playing silly b's ... all you need is a heavy piece of carpet ... I have one that is cut to fit in my Phantom bag ... heavy enough to not blow away with prop blast ... All I do is lay it on the snow / grass etc. - and that's it. Yes you should practice landing on it as its a bit smaller area than most people use to land ... but its good to learn anyway !

>4. Touch screens do not like the cold. They are designed for short intermittet use in the cold ... not to sit out for 10 - 20mins or so .. so they get hit or miss in operation. that's when the controller buttons / wheels are best.

That pretty well covers it for what you can do - I am well aware that others have other ways and I only suggest the above as what I found works for me.

All I can say now - is don't put that model away - go out and shoot some brilliant winter scenes ...

Just to show that its not only drones that can have fun ... here's a winter get together of the club I am part of ...


........ back to my Scotch and Ginger !