Joined

Feb 3, 2018
Messages

1,017
Reaction score

750
Age

59
Location
Hey doods!
So as my drone company moves forward, my hardware and software are also moving forward. I now use UgCS in conjunction with a Matrice 300 RTK for mapping. UgCS runs on a PC in the Windows environment. It requires a network connection to the Android-based remote control, which is also running UgCS. During training, it was recommended to use a smart phone as a hotspot. But I find a couple problems with that:
1) I don't have a smart phone (I still use a flip phone - which I love).
2) The smart phone connection is not very robust. When connected to my business partner's smart phone, we lost connection multiple times within the span of a single flight.
3) Many of our mapping locations are beyond cell service. So we absolutely, 100%, positively must be able to operate autonomously - completely independent of Internet access.
4) I have about 1,000 routers laying around my house (okay...that may be an exaggeration).
Since all we need is a LAN (and not a WAN), I decided I would break out an old router to connect my PC (laptop) to the M300 RC. The problem, of course, is that a router requires AC power. Now, to be clear, on longer jobs we plan on having access to AC power via a generator (we have to charge batteries, after all). But for smaller jobs, we need to be able to run on battery power. Since my router is a simple 12VDC device, I decided to repurpose one of my older
P4P
batteries (which has over 80 flights on it). This has worked perfectly. I haven't tested how long the
P4P
battery will power the router for, but by my estimate it seems I can get well over an hour out of it. And when I say "well over," I believe I can get 2 or 3 hours out of it. Since I have about a half-dozen semi-retired
P4P
batteries, having enough battery for the entire day should be a piece of cake.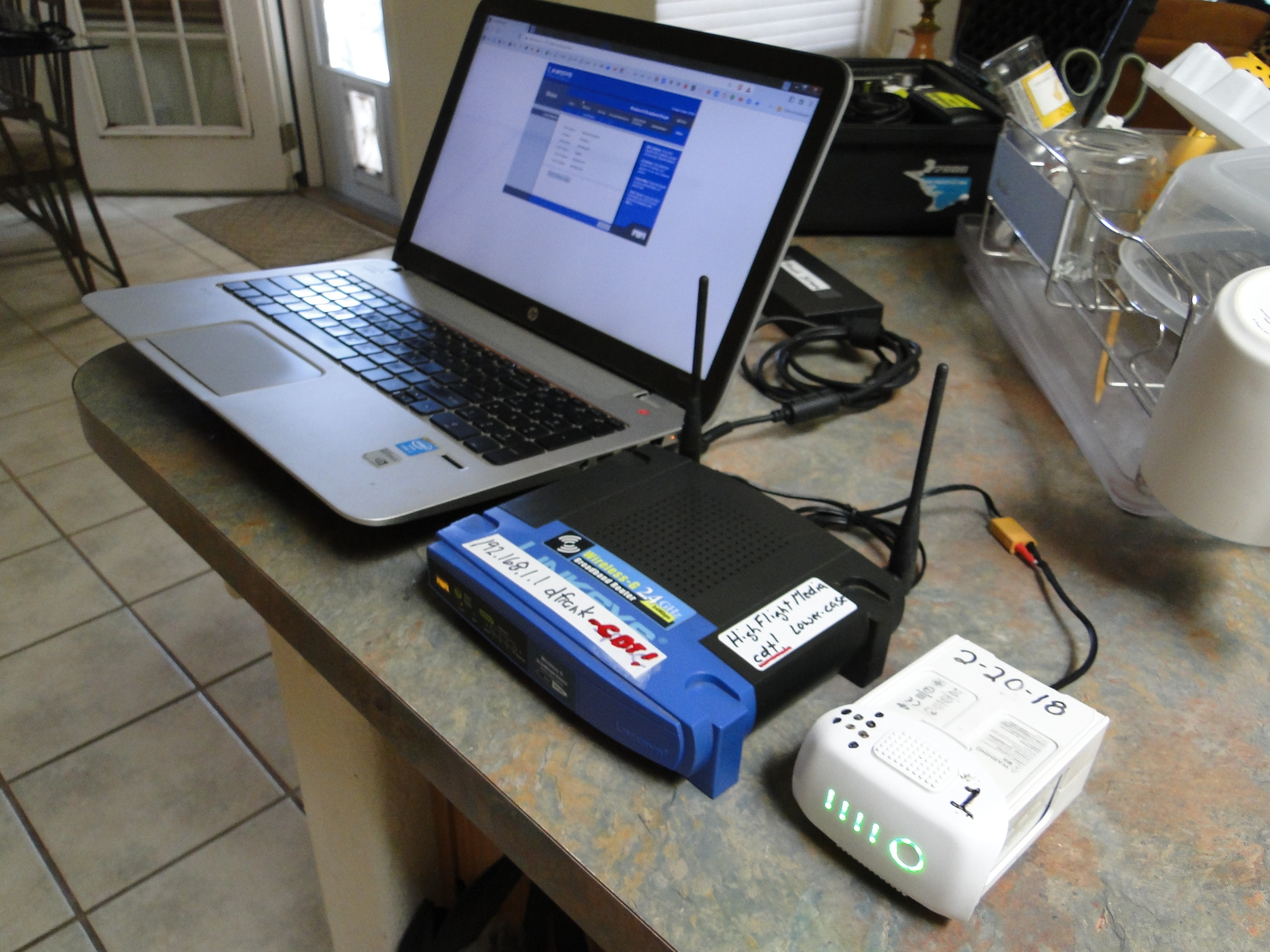 I know some of you are going to say, "Why not just use the car battery?" Several reasons:
1) Most modern cars require the ignition to be on for a power port (cigarette lighter) to work.
2) I don't wish to run cables to the inside of the vehicle or to the battery (we mostly work from the bed of a truck or the back of my Mini Cooper).
3) On occasion we have to "hike in" to a high launch point that we can't reach with a vehicle.
Coming up....
I've got a 24" 1200 nit monitor on the way. I plan on powering that off of my old Inspire 1 batteries. Like my
P4P
, I have at least 1/2 dozen semi-retired Inspire 1 batteries. The new monitor is due to show up tomorrow. I imagine a 1200 nit monitor probably draws a lot of current. But the good news is that it has a brightness knob that will make it very easy to conserve battery by simply turning down the brightness.
Good times.
Discuss.
UPDATE: After running this router for 6 hours and 10 minutes on the same
P4P
battery, the 4th LED just started blinking. This means the battery still has 80%-90% power left. Naturally, I think it will draw a little more current while actually performing routing duties, but that increase should be negligible. I'll buy a case for it tomorrow so it's all self contained. Because it draws so little current, I can just grab a 60% charged battery off the shelf (storage capacity) and go with that. No need to specifically charge a battery just for the router. At any given time I have a dozen 60% charged batteries on the shelf. Once on the jobsite, just power up and go. One less thing to worry about.
SECOND UPDATE: After running over night (a total of 17 hours), the third LED is now blinking. Safe to say using old
P4P
batteries works perfectly.
D
Last edited: