Joined

Dec 29, 2015
Messages

67
Reaction score

26
Age

82
Location
Well tonight was better viewing on the Super Moon than last night here in South Georgia. Cold and clear.
So it's Super Moon Monday. Sounds like football night. Here is another offering that I shot about an hour ago.
And for those that PM'd me and eMailed me on what settings I used, here is the EXIF data from this shot right from BreezeBrowser Pro.
File: IMG_1630.JPG
File size: 2,127KB
Image Serial Number: 164-1630
Camera Model: Canon PowerShot SX60 HS
Firmware: Firmware Version 1.00
Owner: Tommy Connell
Date/Time: 2016:11:14 21:54:53
Copyright: All rights reserved 2015
Shutter speed: 1/160 sec
Aperture: 7.1
Exposure mode: Manual
Flash: Off
Metering mode: Center-weighted average
Drive mode: Single frame shooting
Self-timer: 10 secs
ISO: 100
Lens: 3.8 to 247mm
Focal length: 247mm
Subject distance: 66 m
AF mode: Continuous AF
Image size: 4608 x 3456
Rotation: none
Image quality: Fine
White balance: Auto
Color space: sRGB
Note this color space. It's the reason it doesn't show up as a black and white.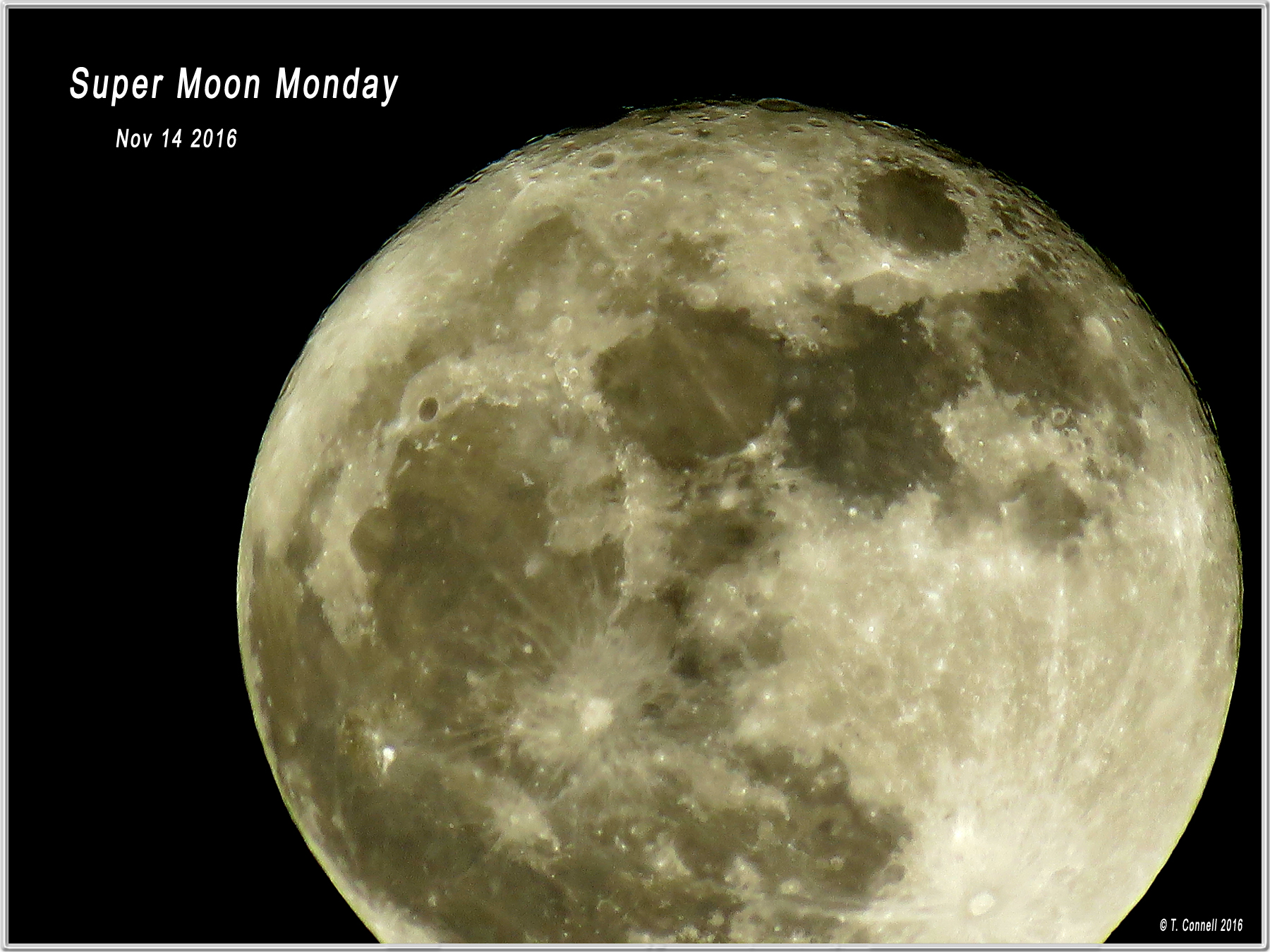 There was post processing in Photoshop but only to the extent of bringing the levels into range. The camera sees all that dense black and reacts to that by bringing up the exposure trying to get the median to 18% gray and that of course blows out all the highlights on the moon. So unless we shoot with the camera in manual we loose all this detail in the surface. Hence I shot at f7.1 @ 1/160sec and at ISO 100. Note: At this magnification I had to pre position the tripod up and to the right above the moon as it's moving quite fast and then clicked the shutter to start the 10sec timer so that there was no movement at the camera when the exposure was made.

Happy Super Moon to You