Hello all,
I recently purchased a Phantom 3 Pro and am having a great time with it. I do a fair amount of traveling and will want to take the P3P with me when I go. To this end I also acquired a hard case specifically designed for the Phantom from MicroRaptors. I've used it a couple of times now and I find it's also a great place to store the aircraft, batteries, controller and other equipment when not actually using it. I'd like now to provide my "review" of the case here.
Manufacturer: MicroRaptors
Source: Amazon. See it
here
.
Cost: $199.95, free shipping
Purchase Date: 6-14-15
Receipt Date: 6-19-15
Overall Dimensions: 24 x 15-7/8 x 10-1/4
Disclaimer: I have no connection whatsoever to MicroRaptor, Amazon or any of their subsidiaries or parent companies.
The hard case arrived inside a cardboard box with no packing material. Nevertheless, it arrived in excellent condition. The carton had hand-hold cutouts and a fair amount of dust got inside the box and on the case during shipment, but this was only cosmetic and was easily wiped off.
The case appears VERY rugged. The hinges are substantial and low profile. There are two latches on the cover with locking knobs. They too are fairly rugged, but appear to me to be the weakest part of the whole case. I'm not saying they are flimsy, but if something were to wear out or break off over the long haul, the latches would be it. There is a 5/16" lock hole beside each latch for securing the lid with a padlock or combo lock. The case has an overall profile similar to a roller bag you would carry onto an airplane. It has a retractable handle and two large roller wheels. Again, quite sturdy. Whether the case would fit into an overhead compartment on a full size airplane is unknown at this point. It would be close.
The inside of the case is best described in pictures, which I have included below. The foam is very stiff, non-crushable in normal use. Each compartment is pre-formed/cut, and forms a nice snug fit to the Phantom and the controller; they won't be rattling around inside the case as you transport it. There are compartments for just about everything else you would need to transport your Phantom, set it up, and get it airborne. When you first open it up, on the left is a large slot that is filled with six sections of precut foam. You remove any of the six pieces to make a custom area to store your tablet, note pads, whatever. The removable foam pieces are really tightly fitted and I broke one of them trying to get it out. This was my fault, I could have been more careful removing the pieces to make a slot for my Nexus 7 II tablet. There are also three plastic partitions you can add to this custom area to make multiple smaller compartments. Additionally, MicroRaptor includes a desiccant and a compartment for it. These are a PITA to use effectively. You have to recharge it every so often by baking it in the oven. A good idea in principle, but I'll probably discard it if I find a more suitable use for its compartment.
Now the question of props on or off inside the case. This case is designed to accommodate the Phantom with its props on. There is softer foam lining the inside of the lid that presses gently on the props when closed. Additionally, the case comes with eight plastic rods that fit in holes on either side of each prop to keep it from moving/rotating during transport. I haven't used these rods yet, but I may install them in the future.
My overall impression of the MicroRaptor case is very favorable. I find it very sturdy and well constructed. I recommend it and I give it five stars. I am interested to see how well it travels in the long run, but that would be another review. Below are several pictures of the case, exterior and interior. Feel free to ask any questions. I hope you find this review useful.
Exterior of the case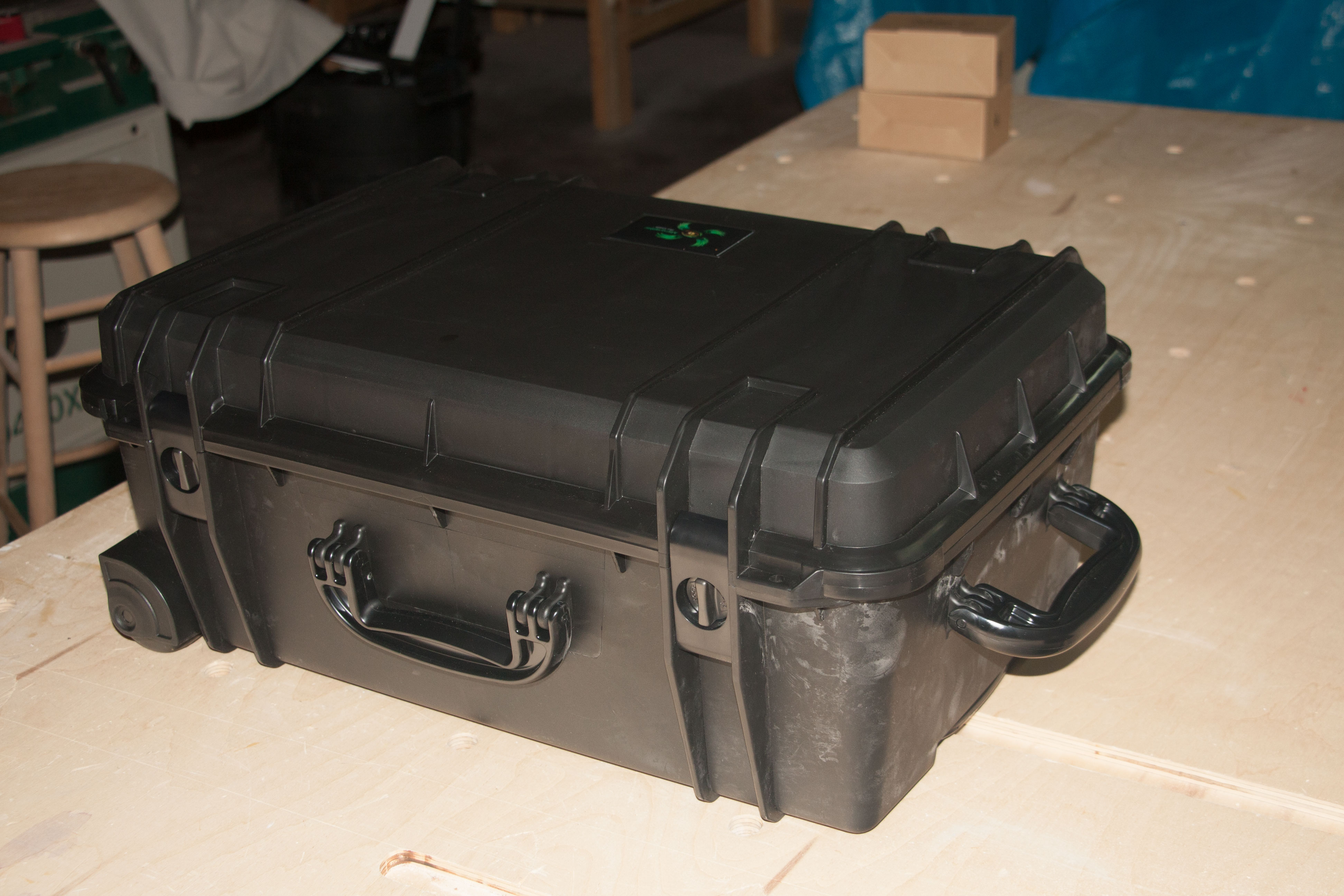 Extendable handle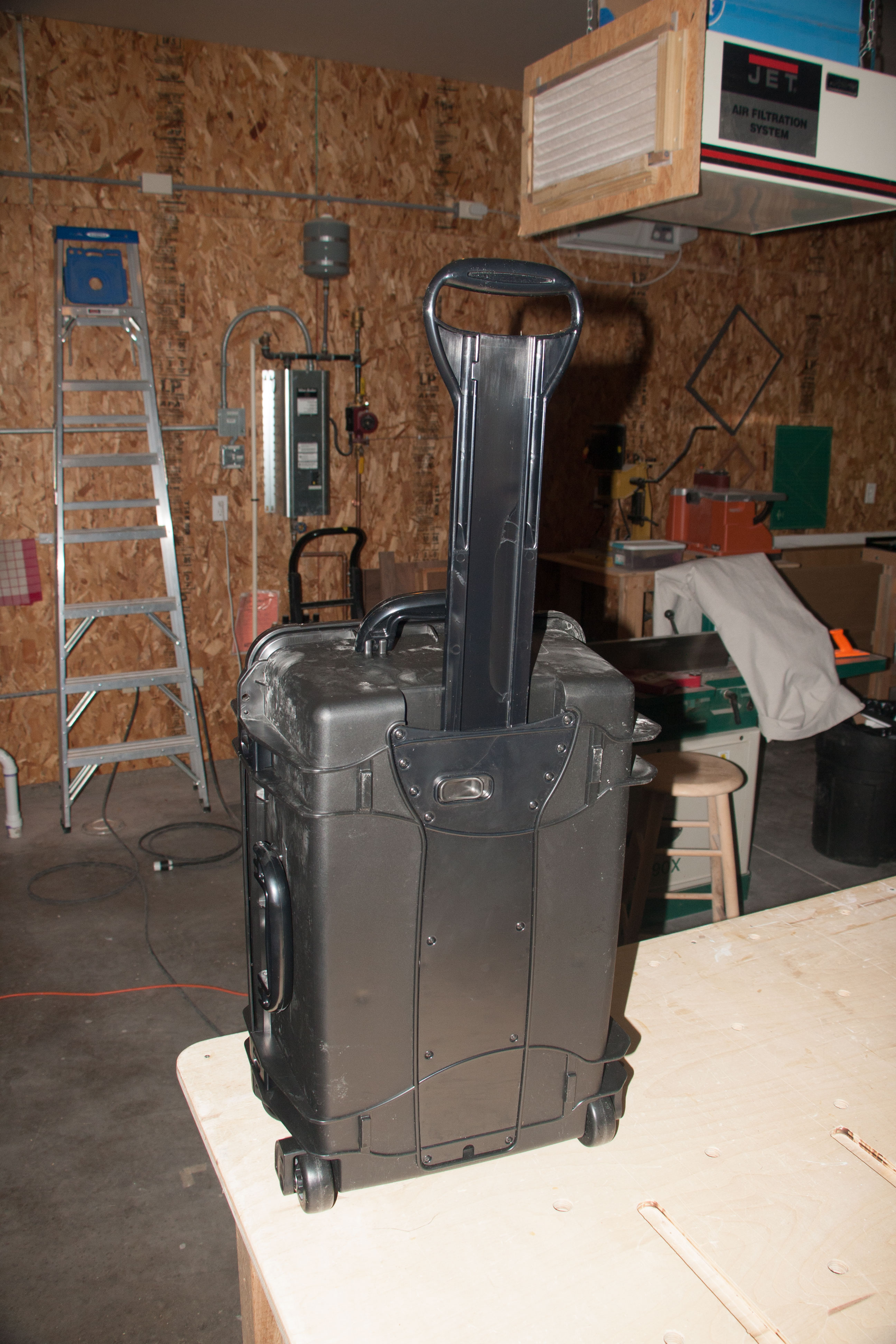 Latch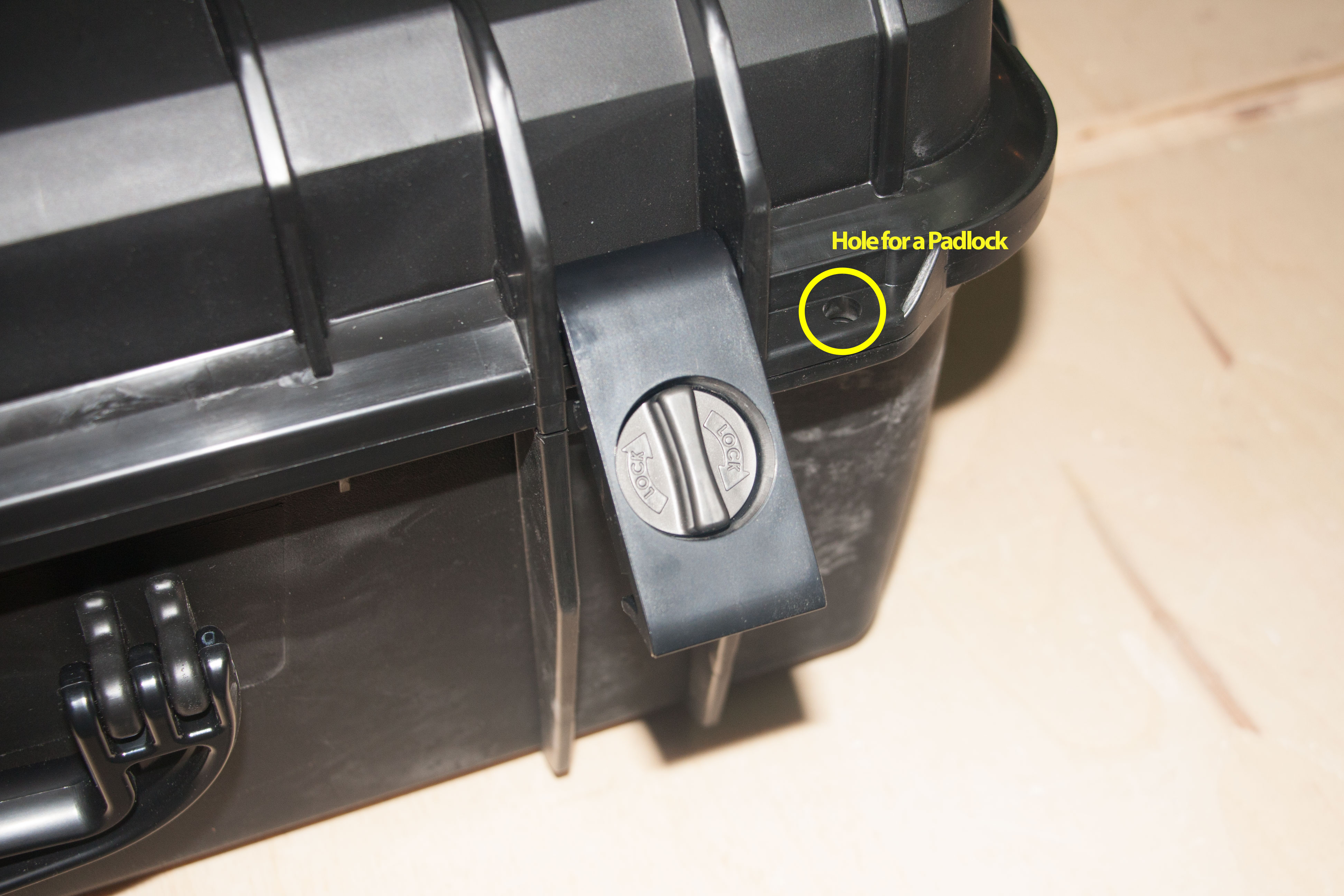 Wheel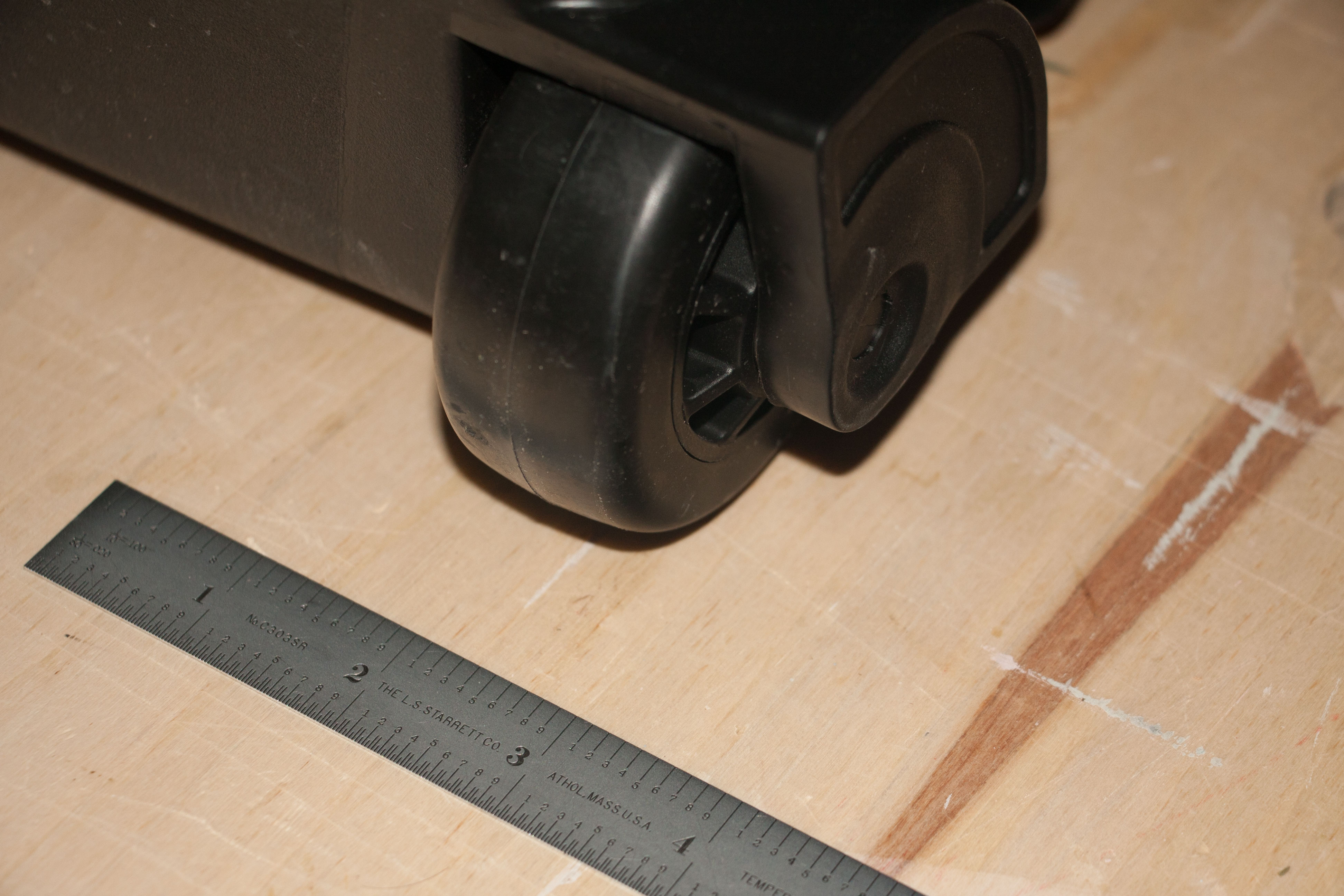 Interior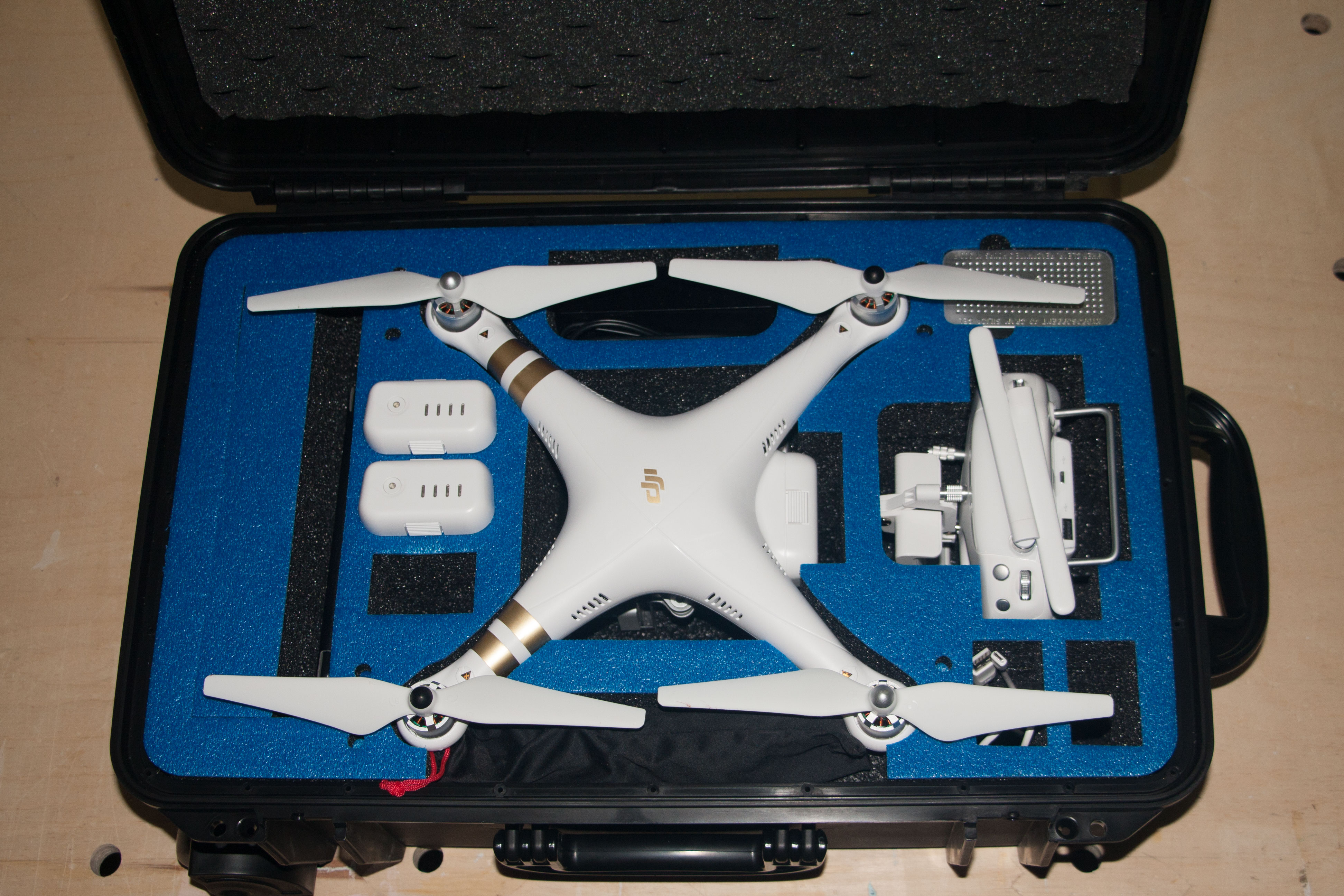 Interior (Annotated)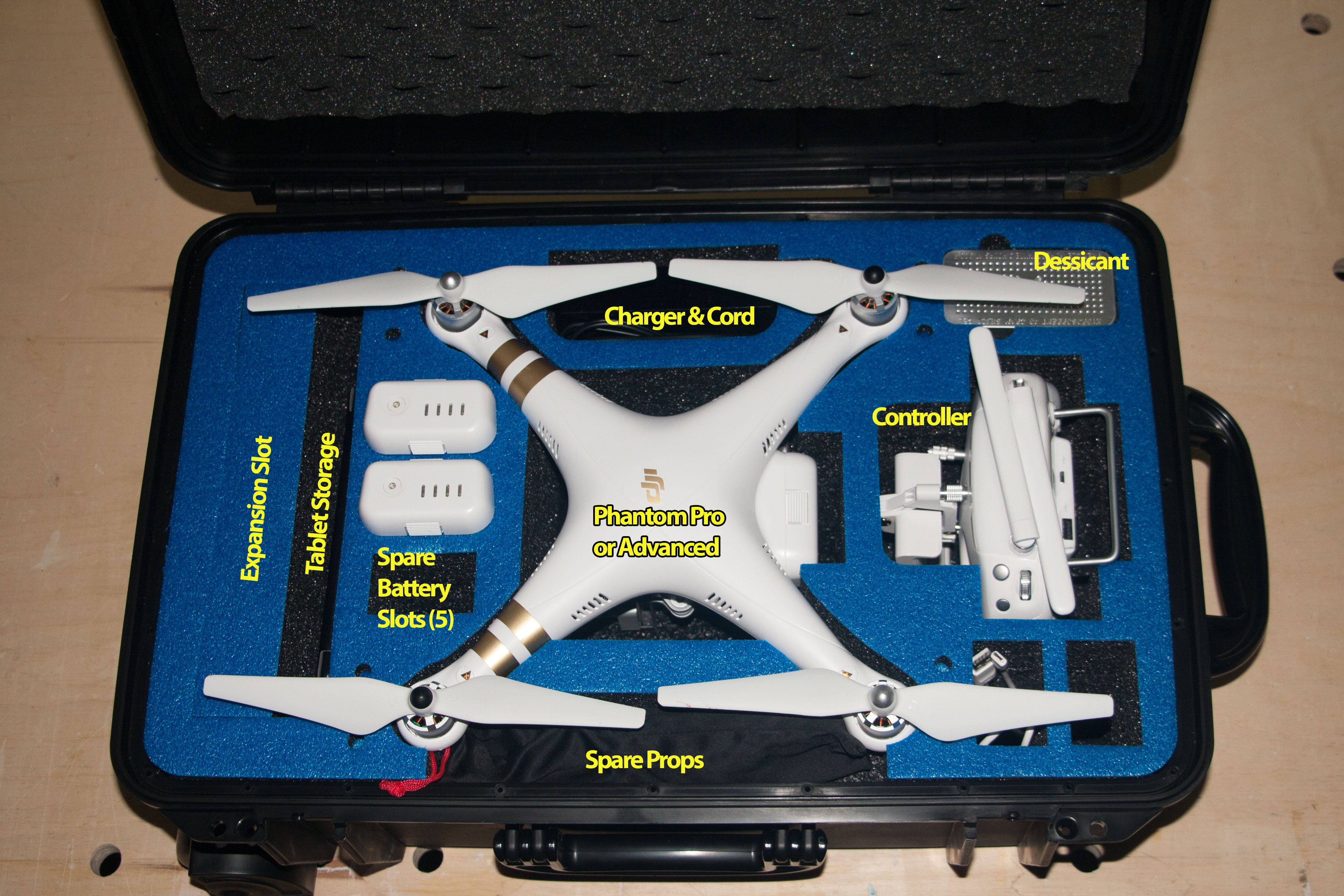 Last edited: