Hi recently I bought a
phantom 4 pro
that had all but one of those caps that cover the landing gears on it. So I bought some on eBay and put it in. After a while I noticed that all the legs had cracked except for the one I had put the cap in. I did not know what this was so I just sent it back and bought a different one. I started to see lines forming but they didn't go all the way through. I thought that maybe the screws were over tightened so I popped the cats off and loosen the screws which seemed to be very tight in the back but then I saw that the landing gear caps that came with the drone were a different style than I bought for the previous phantom that I had purchased. The line had formed in front of a hole which a piece of plastic protruding from The landing gear cap sticks into. The design of landing gear cap I had purchased online clipped back in where the cables went into and provided a flat surface for the rest of it to sit on. I replaced all of the landing gear caps with the ones I purchased on eBay and after flying it for a while nothing new is forming or worsening on my landing gears. This might be a good solution so
I made this diagram attached showing how the old landing gear cap compares with the new one. The red arrow points to the hole that the old landing gear cap went into, the yellow line is where the line that does not go all the way through started forming, and the blue arrow points to where the new landing gear cap clicks into.
If you do this do so at your own risk because the original landing gear caps are pretty hard to take out unlike the new ones, and it might void any warranty or return possibilities. Hope you see this if you just got a phantom 4 series drone or are replacing your landing gears.
Here is where I bought my landing gear caps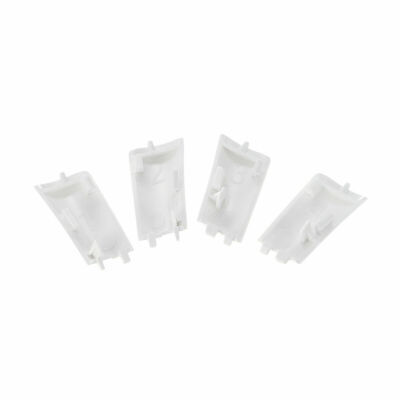 New DJI
Phantom 4 Pro
/Adv - Landing Gear Antenna Cover Insert. Does not fit the Phantom 4 Standard / Original / Basic, or the "Phantom 4 Professional V2.0". Genuine authentic original OEM.
MAKE SURE TO LOOK UP ONLINE THE ORDER THAT YOU PUT THEM IN IF YOU DO THIS
Last edited: