**rule on this thread is if you are posting range and/or battery experiences it must be with some sort of proof! I NEVER if you glance at my records on this iPad, make long flights. A battery use for me are a few flights usually (continua though). I try and land around 20% usually.
*If you don't want to read my extended post, essentially I woke up this morning and read the range and battery life thread and some just rang out as not right to me so I decided to test out my 2 bats and post the results. I have no dog in the race. I don't care either way but the results refuted everyone for sure about the battery life (and the range seems fine to me) but for resons explained below I couldn't go further than 1.5 miles without endangering the bird because I would be in a second valley out of sight but it did that 1.5 like it was 100 yards and I feel I could go forever if I wanted. Both came back with 19% and 26%. If my telemetry is a couple numbers off, it is only because of a bad memory but it's pretty close or e exact on everything.
I'm not a great pilot. I have been learning for years and am still not nearly as good as my mentors.
Because of my business needs and financial pool (both personal and business), I'm afforded the ability to own most of the entire line of DJI products and I don't and haven't sweated any loss of distance but battery power grabs my attention a little. Don't get me wrong, I'm not on the cliff like some because of the supposed discrepancies in produced specs and perceived and I'm sure at times ACTUAL differnence.
On vacation at a B&B mansion that looks over Simi Valley. In fact I'm flying directly over the valley so far as air conditions are concerned, whatever is better or worse (forget), I'm at about 6500 feet after going over the valley (30 feet from my homepoint).
Each of my two flights were one after the other, and the first with a battery that had 7 total cycles, and the maiden bat flight on the last flight.
In my efforts to try and mimick real life scenarios, I flew often in sport mode, used intelligent modes and practiced several RTHs just to be sure after that scare I had the other day. Open area valley (I will upload both vids) and by the way, I was shooting continually on the last flight but I accidentally only brought the stock card, so it was 16, all my 32s and 64s are at the studio so it cut out but as you can see that camera was also running for the majority.
The first flight returned with 19% and th second with 26% left in the bat. So I will let those objective metrics speak for themselves. *The logs attached but I'm on my mini which I still haven't synchronized so it only has a flew flights listed.
As for how the camera looks va. the P3, I believe the P4 is better (albeit negligible), naturally but once I figure out my initial setting, I keep it as a macro and that's what it starts at so it makes no difference to me.
As for distance, I flew in P mode I would guess about 1.5 miles in VLOS from one side of the valley to the next and it did it in unreal time. Once you get a straight away with a tailwind, you are flying. I now believe the guy that said he went 75mph. At one point I slowed down because I was afraid of flipping the bird (double entendre notwithstanding).
Do the math from take off to landing with constant movement and all the stuff above with 19% and 26% left. I'm sure you guys realize that they post specs for the entire battery which is fair.
It's fine, of course, if you are having different results or experiences but to discuss your own stuff, you can't mention it in this thread without the proper proof. Discuss the other stuff at will, that way people using these threads to make decisions can look at objectivity rather than just hear what you have to say. Sure, I could have just sat there and let it hover so there is a little honor here, but I can't possibly understand why someone would lie about such a thing.
I'll upload my telemetry cache (assuming it's still there). The app is wonky and always has been IMO. I will definitely upload the video. I don't have a computer (that I own) and off the cuff I don't think I can upload the vid until I'm home Sunday or Monday but I believe I can screen capture the telemetry from the flights which I will do a little later. Family is already yelling at me because I'm not in the infinite view spa
which I am now going to do.
Do the math! I am finding no lies on my bird. Can't fully comment on range with the last two flights but the battery myth, appears to be just that, unless I happen to have gotten two great batteries. DONT FORGET THAT the final flight had more than 25% left so the math brings you nicely over 28% and that's without even "breaking in the battery" which I believe is a crock anyhow, but that's another discussion. For your viewing truth: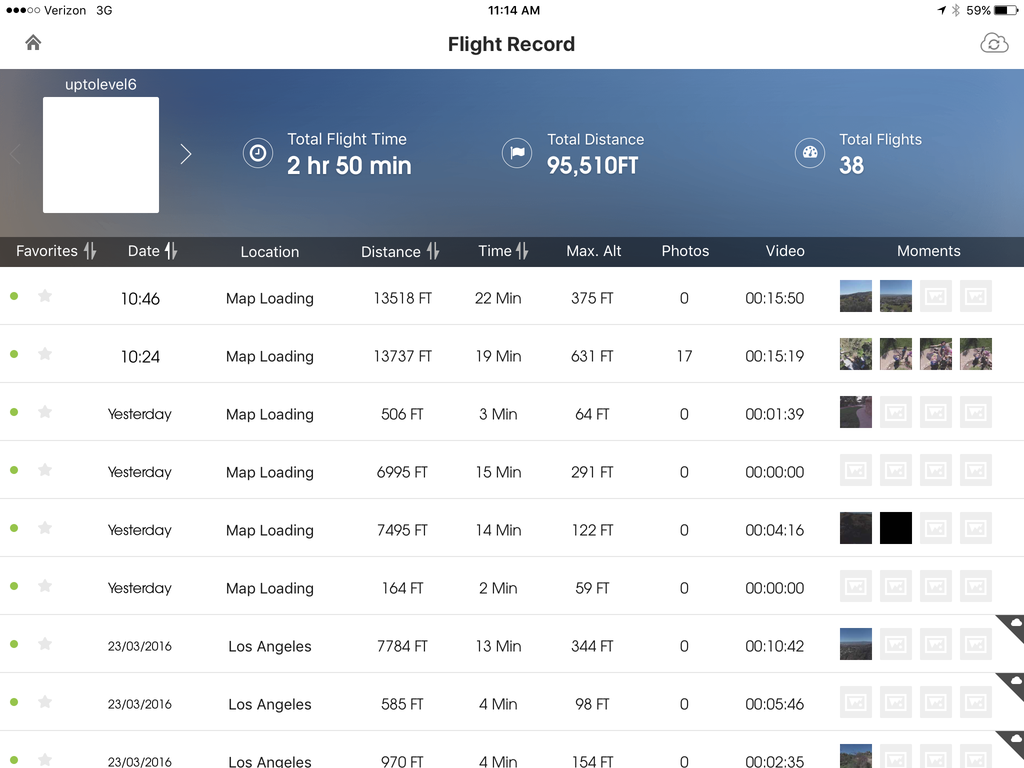 The above telemetry metadata as from the second flight, brand new battery and 26% remaining so add 4.8 or so minutes to that.
First flight
Last edited: