All -
Being new to the forum, I have tried to search for this topic/issue and haven't been really able to find any conclusive to my problem.
I purchased a used P2 from a coworker several weeks ago - it came with 3 batteries. Due to operator error
on my part, I crashed it on the first flight over the Memorial Day weekend. In the process of "rebuilding" it, I went ahead and updated all firmware (supposedly) since the previous owner never did. I used software assistant 3.8 and the FC went from version 2.0 to 3.14. Subsequent flights after the repairs showed that one
battery worked fine with expected flight times - the other two would cause the P2 to go into "low voltage" mode and begin descending within 1-4 minutes of flight time even though the Smart Battery indicators clearly showed at least 3 green "bars" of power left. The previous owner indicated that he rotated all 3 batteries and as shown by the software assistant, none have over 21 flights of them and are showing a "life expectancy" of at least 90%. I suspect that perhaps the one "good" battery was in the P2 when I did the firmware updates and got updated and that the other 2 haven't? If that's the case, I haven't, despite researching here and yonder, been able to figure out how to update them or even if it's possible. Perhaps it's not a battery firmware update issue? Before I plunk down $$$ on a new battery, I want o make sure that I've exhausted all avenues...Bellow is a screenshot of the firmware levels: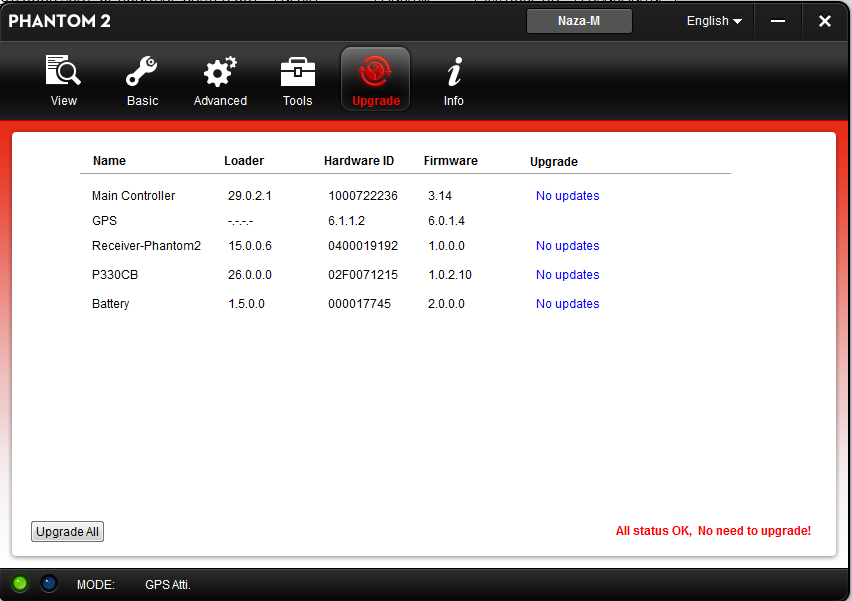 Thanks in advance!
Daniel
Greenville, SC