Joined

May 3, 2015
Messages

3,974
Reaction score

1,358
Age

66
Location
Wow, it looks like the world we all love may change soon, if these knuckleheads don't stop with the quad copter shinanigans.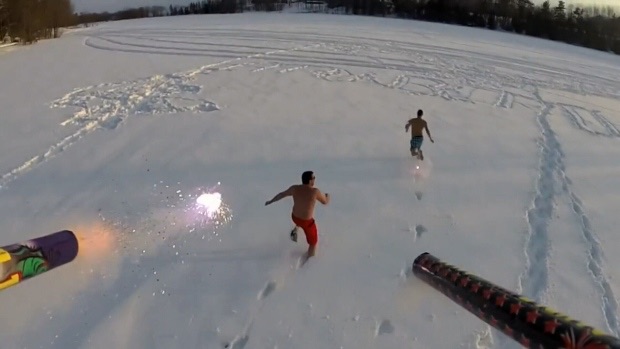 A drone outfitted with fireworks chases two men in Constance Bay, On. The video has gone viral. The men say it was silly, but fun. (Andy Stewart / YouTube)
Transport Canada is investigating an incident seen in a YouTube video showing men running away from fireworks launched from a flying drone.
In an email to CTVNews.ca, Transport Canada says that carrying explosives or pyrotechnics on an unmanned aerial vehicle (UAV) is "extremely dangerous." Commercial and research UAVs are not allowed to carry "hazardous payloads" without a Special Flight Operating Certificate.
Recreational users with a UAV under 35 kg don't require the certificate, but Transport Canada said flying drones "in a reckless and negligent manner could potentially cause damage, injuries, or fatalities, which can result in lawsuits, fines, and jail time."
The video was posted on Andy Stewart's YouTube channel, where viewers can watch episodes of "Danger Bay," featuring stunts on Constance Bay in Ottawa. Other videos posted there include a backyard ski jump and an attempt to ride a wakeboard on the partially frozen bay.
While those clips have been viewed hundreds of times, the "Roman Candle Attack Drone 2.0" video has been a big hit, racking up more than a million views since it was posted in March.
In the short clip, viewers watch from the drone's perspective as two Roman candles launch fireworks in the direction of Jason Stewart and Matt Trueman, who can be seen running across the snow-covered frozen bay wearing nothing but bathing suits.
Transport Canada investigating fireworks-launching drone video
The men are always looking for new ways to have some fun and make a bit of money on their YouTube Channel, Trueman said.
In an interview with CTV Ottawa, Jason Stewart said even he was surprised at how accurate the drone was. At one point, Stewart is hit by a firework shot from the drone.
"It's just duct-taped onto it, you know?" he told CTV Ottawa's Eric Longley. "It's not like we practised trying to shoot Roman candles with drones."
Trueman said they're always looking for new extreme sports they can try out, but warn their viewers not to try this at home.
"It was just, it was silly," Trueman said. "It was just having fun, being dumb."
Even if that was the intention, Transport Canada's safety guidelines stipulate that UAVs be flown at least nine kilometres away from built-up areas and aerodromes. It's not known whether the Ottawa men were within range of the nearby Constance Lake Waterdome.
Transport Canada also notes that drone operators must adhere to Canadian Aviation Regulations.
"They are also subject to the Criminal Code as well as provincial, territorial and municipal laws governing areas such as privacy and trespassing, noise levels, and setting off fireworks," Transport Canada spokesperson Mélany Gauvin says.
With files from CTV Ottawa
I just shake my head...
RedHotPoker
Last edited: